30¢ bison double transfer variety
I had the opportunity to spend a couple of hours at the TSDA San Antonio Stamp Show on Sunday, and stumbled across this beauty while browsing through a dealer's stock book.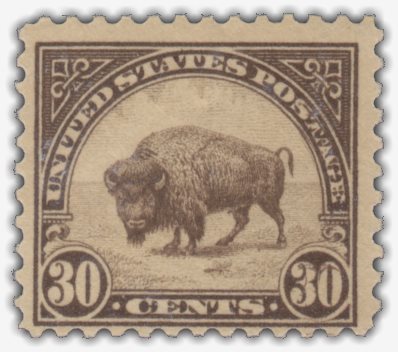 The 30¢ bison stamp is part of the Fourth Bureau issue. It was printed in sheets of 400 that were then split into panes of 100 for distribution to post offices. On one of the printing plates that was used, the design of one stamp was partially entered twice, resulting in this stunning variety. The double transfer is most obvious in the righthand "30" and in the "STAGE" of "POSTAGE."
This is a remarkably easy variety to spot even with the naked eye, but it's one that's worth watching for since the catalogue value for a mint copy is roughly 10 times that of a normal stamp. If you can pick up the variety for the price of a normal copy, you're getting a bargain.
Published 2017-05-10