Omaha Cover
When Meriwether Lewis and George Clark reached the stretch of the Missouri River near what is now Omaha, Nebraska, in August 1804, they had high hopes of working out a peace agreement between the Maha or Omaha nation and the Otoe-Missouria.1 Such an agreement would not be possible, however, because the remnant of the Maha tribe had left the area following a devastating smallpox epidemic in 1800.
Despite this setback, Lewis and Clark did meet with representatives of the Otoe-Missouria, presenting peace medals and gifts.2 Members of the expedition also demonstrated the use of various items they were carrying. "They were much surprised at the air gun and several curiosities which were shown them," wrote Clark, noting that a magnet attracted the most attention.3
This cover postmarked in Omaha on August 19, 1934, has a cachet commemorating the 130th anniversary of Lewis and Clark's council with the Native Americans from the area.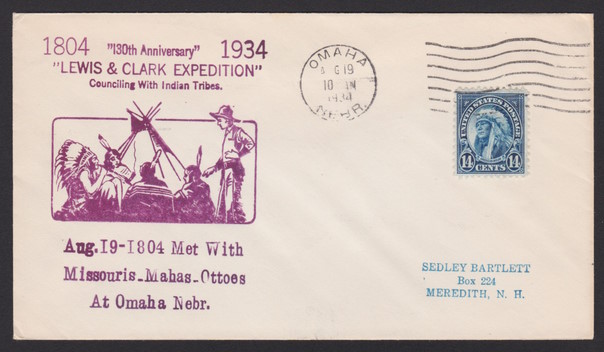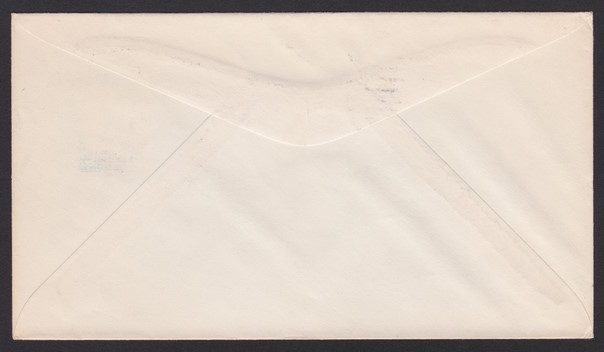 The single copy of the 14¢ American Indian stamp on this cover grossly overpays the 3¢ per ounce postage rate in effect at the time, but it was obviously chosen due to its Native American connection. The envelope was addressed to Sedley Bartlett of Meredith, New Hampshire. The March 1936 issue of Airpost Journal mentions Mr. Bartlett as the Cachet Director for the Belknap Aero Club; while not certain, it is possible that Mr. Bartlett himself was responsible for the creation of the cachet.4
On a related note, the August 19 postmark date also happens to be the 130th anniversary of a darker moment of the Lewis and Clark Expedition. Sergeant Charles Floyd became seriously ill on August 19, 1804, dying the next day of what historians belive was likely a reptured appendix.5 Incredibly, Floyd was the only casualty among the men who set out on the epic journey.
Next: Charles Floyd cover
References
Published 2023-03-06 Last updated 2023-03-21