MacWhyte Parcel Tag
Although the 14¢ American Indian stamp is most often found used with other values on registered covers, the stamp was also used with other higher denominated stamps on heavier items. Such was the case on this undated parcel tag, which was presumably attached to something quite heavy indeed.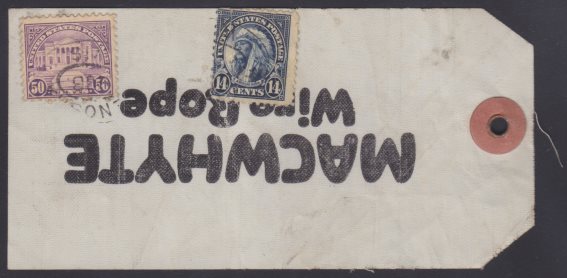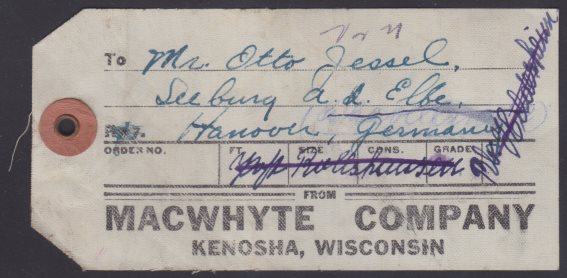 The tag from the MacWhyte Company of Kenosha, Wisconsin, was attached to a parcel shipped to Mr. Otto Jessel of Hanover, Germany. The MacWhyte Company produced wire rope, aircraft cables, and other supplies in Kenosha from 1912 until the company was sold in 1999.1 2
The American Indian and accompanying 50¢ Arlington Amphitheatre stamps are tied to the tag with an undated Kenosha oval cancellation; since the 14¢ stamp was issued in May 1923, we can conclude only that the parcel was mailed no earlier than that.3
Next: First day cover
References
MacWhyte Plant Exterior. Digital Collections. Accessed 23 Aug. 2017.
History of Growth. WireCo WorldGroup. Accessed 23 Aug. 2017.
Snee, Charles, ed. Scott 2012 Specialized Catalogue of United States Stamps & Covers. Sidney, Ohio: Scott Publishing Co., 2009.
Published 2018-06-17 Last updated 2021-01-17