Pennsylvania Cover
J. Emory Renoll of Hanover, Pennsylvania, began his career as a stamp dealer at least as early as the mid 1910s, as is demonstrated by his classified ads in contemporary magazines like Popular Mechanics and Boys' Life, where he advertised "approval selections at 70% discount from standard catalogue prices."1 Although it is not clear exactly how prominent Renoll was in the trade, it seems reasonable to speculate that he may have built a substantial client base by 1930, the year the next cover in this exhibit was mailed.
The cover, which was addressed to John Grasberger of Bellport, New York, was postmarked on its reverse in Hanover on January 7, 1930, and the next day arrived in Bellport where it was postmarked again.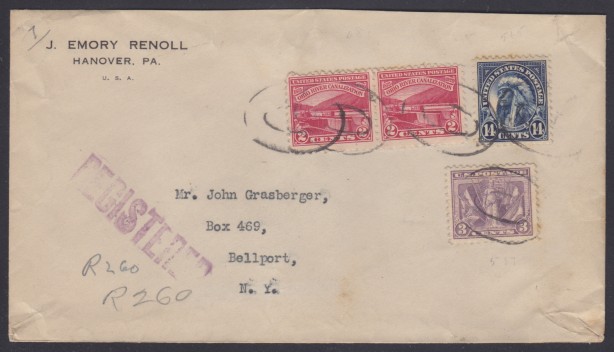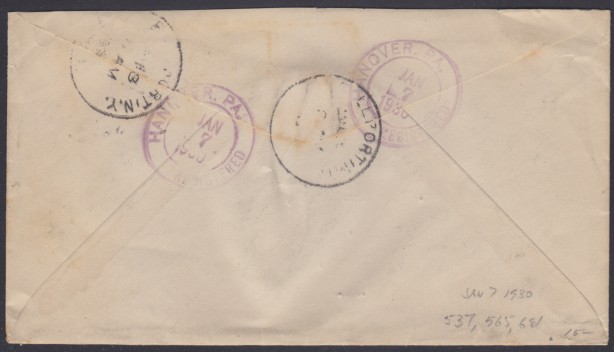 This cover bears four stamps: the 14¢ American Indian, a pair of 2¢ Ohio River Canalization stamps issued in 1929, and the 3¢ Victory issue of 1919. The 21¢ total probably represents triple weight postage—3 ounces at 2¢ per ounce—plus 15¢ for registration, which is indicated by the "Registered" handstamp on the front of the cover.
Next: Buffalo Bill cover
References
Boys' Life, Sept. 1916. Accessed 16 Dec. 2011.
Published 2018-06-17 Last updated 2022-07-18