Colorado Bank Cover
As previously noted, the 14¢ American Indian stamp is most often found used with other stamps to pay a higher postage rate. This registered cover, which bears both the American Indian stamp and a copy of the 5¢ Theodore Roosevelt design from the same series, is a prime example. Together, the two stamps paid 4¢ postage for a two ounce letter, and 15¢ for registration.1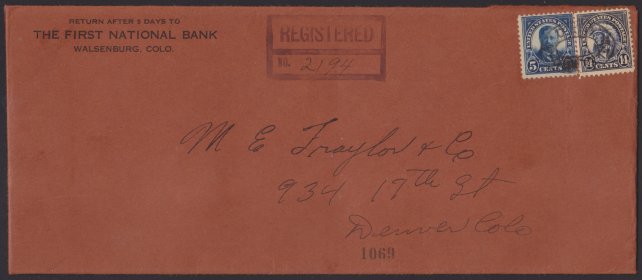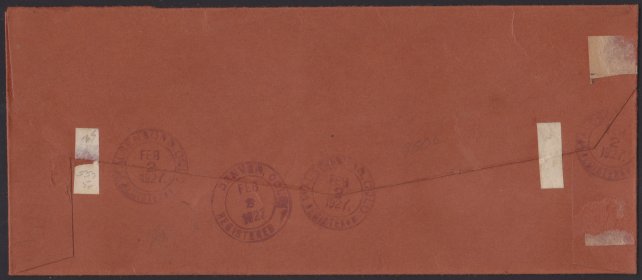 The cover was sent from The First National Bank of Walsenburg, Colorado, to M. E. Traylor & Company of Denver in 1927. A directory of investment bankers published in 1922 lists Mr. Traylor only as a principal in a Denver group, but it appears he must have been the primary member of the firm by this time.2
The stamps are canceled with a Walsenburg mute handstamp; the use of undated cancellations was typical on registered mail in the 1920s. Other markings on the envelope include the "Registered" handstamp on the front, plus Walsenburg and Denver postmarks on the reverse.
The cover was postmarked in Walsenburg on February 2, and in Denver later that same day. By road, the two cities are roughly 160 miles apart, making the piece's arrival in the state capital on the same day it was mailed respectable even by today's standards.
Next: USS Marblehead parcel fragment
References
United States Post Office Department. Table XI. Domestic Registry Service - 1855–1955. United States Domestic Postage Rates 1789–1956. Reprint. Greg Sutherland, 1995. Accessed 6 Jan. 2010.
Babize, Auguste C., ed. Investment News' Directory of Investment Bankers and Brokers of America, 1922. Chicago: Investment Service Company, 1922. Accessed 13 Oct. 2010.
Published 2018-06-17 Last updated 2020-07-14