USS Marblehead Parcel Fragment
For the crew of the USS Marblehead, a light cruiser commissioned in 1924, a highlight of 1927 was supporting the efforts to bring an end to the civil war then raging in Nicaragua.1 Few aboard likely gave much thought to postage stamps or postal history, but some nameless clerk back in the United States apparently thought a piece of a parcel mailed from the ship was worth keeping.
This parcel fragment postmarked on board the Marblehead on February 17, 1927, was mailed to the Navy Department's Bureau of Navigation in Washington, D.C.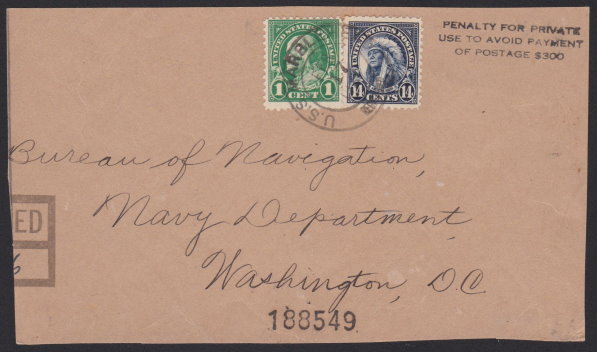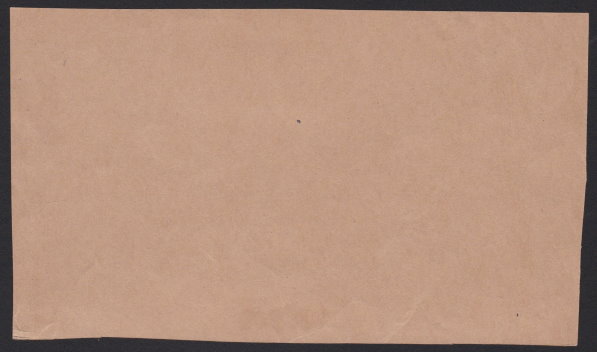 One might question the use of stamps on a parcel with an imprint reading "penalty for private use to avoid payment of postage $300," but there is a simple explanation. A small portion of a registered handstamp is visible near the left end of the fragment; with some exceptions, registration was not a part of the "free" mailing privileges granted to various government agencies, but instead had to be paid separately.2
The USS Marblehead would later go on to gain fame in World War II when it survived an attack by three dozen Japanese bombers in 1942. With 15 members of its crew dead and dozens more wounded, the ship although heavily damaged was able to return to port for repairs and served through the remainder of the war.3
Next: CAM 20 cover
References
Dictionary of American Naval Fighting Ships. Accessed 2 July 2020.
Beecher, Henry W., and Anthony S. Wawrukiewicz. U.S. Domestic Postal Rates, 1872–2011. 3rd ed. Bellefonte, Pennsylvania: American Philatelic Society, 2011.
Rickard, Dr. John. USS Marblehead (CL-12). Military History Encyclopedia on the Web. 30 Jan. 2014. Accessed 2 July 2020.
Published 2020-07-02 Last updated 2020-07-14