CAM 8 Cover
Airmail service in the United States, although available beginning in 1918, did not truly find its wings until the mid 1920s. Under the terms of the Air Mail Act of 1925, the U.S. Post Office began paying private airlines to carry the mail along specific routes.1 The number of cities served by those contract airmail routes swelled, and as additional routes were created the number of people for whom airmail was an option also grew.
In late August, 1926, Postmaster General Harry New announced that airmail service between Los Angeles, California, and Seattle, Washington, would begin on September 15 of that year.2 Despite having only a little over two weeks to ready mail for the first flights from each city, collectors and enthusiasts prepared covers such as this one to mark the inauguration of CAM 8.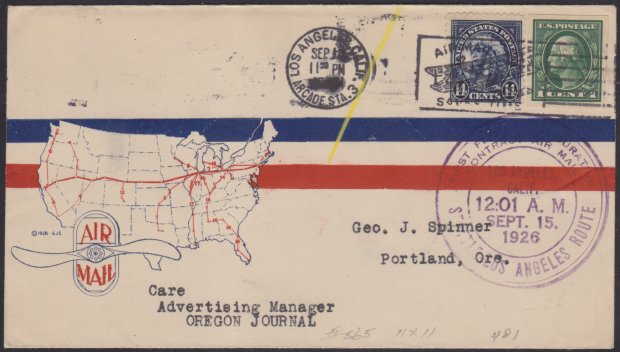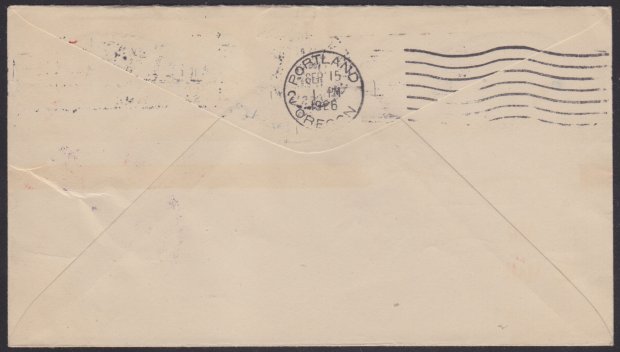 The cover bears two stamps: the flat plate variety of the American Indian stamp, and an imperforate 1¢ George Washington stamp from the third Bureau issue. Together, the stamps paid the 15¢ airmail rate then in effect for a route covering between 1,000 and 1,500 miles.3
Featuring red and blue horizontal stripes and a map of the U.S. showing each of the contract air mail routes then active or planned, the cover is addressed to George Spinner. Mr. Spinner was advertising manager for the Oregon Journal—a now defunct newspaper then published in Portland, Oregon—and the copyright line that includes the initials "GJS" suggests that he was responsible for designing, or at least commissioning, the cover.
The stamps were cancelled with a very appropriate "air mail saves time" slogan in Los Angeles late on September 14, and the cover was marked again early on September 15 with a purple handstamp noting that it was carried on the "first flight inaugurating contract air mail, Seattle–Los Angeles route." A final postmark was applied to the back of the envelope when it arrived in Portland, which was one of the intermediate stops on the route, later that day.
Although sealed, the envelope appears to contain a sheet of paper or a stiffener of some sort. To preserve the condition of this piece of postal history, the editor has elected to leave it sealed, and the exact nature of its contents remains unknown.
Next: Colorado bank cover
References
CAM Contract Air Mail First Flights CAM-8. Aerodacious. 24 Oct. 2007. Accessed 11 Oct. 2010.
Seattle–Los Angeles Air Mail Announced; Contractor Schedules Start Sept. 15 on Night Flights, Using Lighted Beacons. The New York Times, 1 Sept. 1926. Accessed 11 Oct. 2010.
United States Post Office Department. Annual Report of the Postmaster General. Washington: Government Printing Office, 1925. Accessed 11 Oct. 2010.
Published 2018-06-17