First Boca
Trinidad, Trinidad and Tobago
Off the northwest coast of Trinidad sit several small islands, and between each of those islands runs a channel of water; collectively, these passages are called the Bocas del Dragón, or Dragon's Mouth.1 2 One of the channels is known to locals as First Boca.
First Boca, or Boca de Monos, runs between Trinidad proper and Monos Island, which was named for the howler monkeys that inhabit it.3 The channel is bounded by hills up to 1,000 feet high, and it is regarded as one of the country's most spectacular sights.4
A view of First Boca was used on several different stamps issued by Trinidad and Tobago.5 The first of those stamps, which unlike later issues lacks a portrait of the then-reigning British monarch, is one of the editor's personal favorites due to its rich colors and skillful engraving.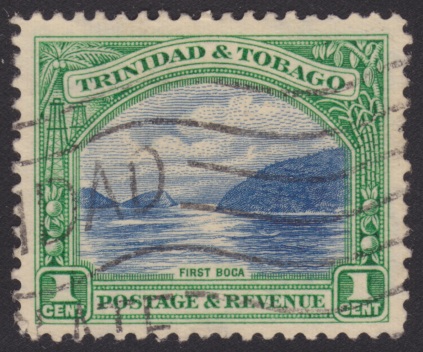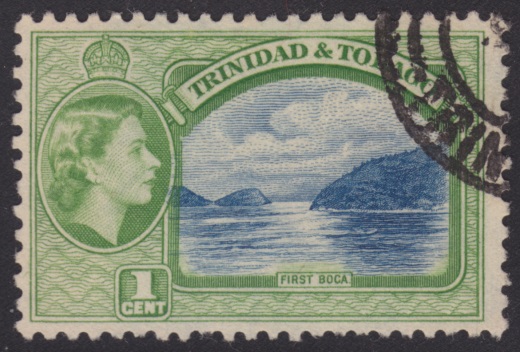 Next: Flat Lake
References
Boca de Monos, Trinidad, Trinidad and Tobago. Google Maps. Accessed 26 Feb. 2014.
Visiting Five Islands Off the Coast. Life in Trinidad & Tobago. 9 Dec. 2008. Accessed 26 Feb. 2014.
Grenada to Trinidad. ECaribbeanPlace.com. Accessed 26 Feb. 2014.
Tour of the Caribbean - The Bocas. YodelOut! Travel. Accessed 26 Feb. 2014.
Kloetzel, James, ed. Scott 1998 Standard Postal Stamp Catalogue, Volume 6. Sidney, Ohio: Scott Publishing Co., 1997.
Published 2018-06-18 Last updated 2021-01-17