1894–99 First Bureau issue
When the Bureau of Engraving and Printing assumed responsibility for producing the nation's postage stamps beginning in 1894, it used the same basic designs that the American Bank Note Company introduced in 1890. There were two major differences: the BEP added triangles to the upper corners of its stamps, and the 30¢ and 90¢ values were replaced by 50¢ and $1 stamps featuring the same subjects. In addition, $2 and $5 designs were added to the series.
The first Bureau issue, as these stamps are collectively known, can be found on unwatermarked paper and on paper watermarked with a double-line "USPS." Watermarked paper was first used for United States stamps in 1895 in an attempt to make counterfeiting more difficult.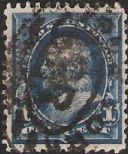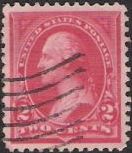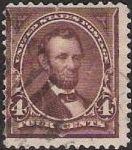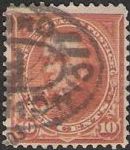 Finally, several stamps from this series were issued in new colors in 1898 to conform with a Universal Postal Union directive that recommended green for stamps paying domestic post card rates, red for stamps paying domestic letter rates, and blue for stamps paying international letter rates. The color scheme was designed to help postal clerks in participating countries ensure correct postage had been paid on incoming international letters.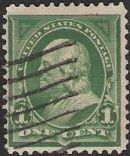 Next: 1898 Trans-Mississippi Exposition
Published 2018-06-18