Wisconsin Creamery Butter poster stamp
During last week's San Antonio Philatelic Association meeting, I got to purchase a stock page of various cinderellas during the club's silent auction. One of the items that really caught my eye was this blue and yellow poster stamp promoting Wisconsin Creamery Butter.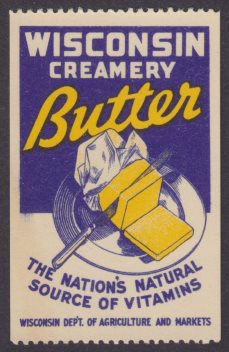 The label depicts a slab of butter on a plate and identifies Wisconsin butter as "the nation's natural source of vitamins." The text at the bottom indicates that it was commissioned by the Wisconsin Department of Agriculture and Markets.
According to Wikipedia, the Department of Agriculture and the Department of Markets were separate agencies until 1929; the combined agency operated under the name of the Department of Agriculture and Markets from that point until 1939, when its name was shortened to Department of Agriculture. Based on this information, we can conclude that the label could date to as early as 1929, but it was most likely produced in the 1930s.
Despite its visual appeal, this item doesn't really fit into any of my collecting areas of interest. I've listed it on eBay in case it's something you would like to have.
Published 2017-07-23