Upper Slobovia souvenir sheets take tongue-in-cheek approach
Last month, I attended a meeting of the San Antonio Philatelic Association for the first time since delivering my "How to Make Your Own Stamps" presentation last summer, and the club treasurer had a packet of material he thought I might like given my interest in cinderella stamps: a stack of Upper Slobovia souvenir sheets produced by the Wilkinsburg Stamp Club of Pennsylvania. The dates on the souvenir sheets range from 1962 to 1983, and although the selection may be missing one or two sheets from that time span, there is without question some interesting material in there.
One of the souvenir sheets dates from 1970, and the designs of the "stamps" thereon are obvious spoofs of the XIth International Botantical Congress United States stamps of 1969, but with a baseball theme. The designs commemorate the 33rd anniversary of Wrigley Field in Chicago and also pay homage to the Apollo missions and the first manned moon landing.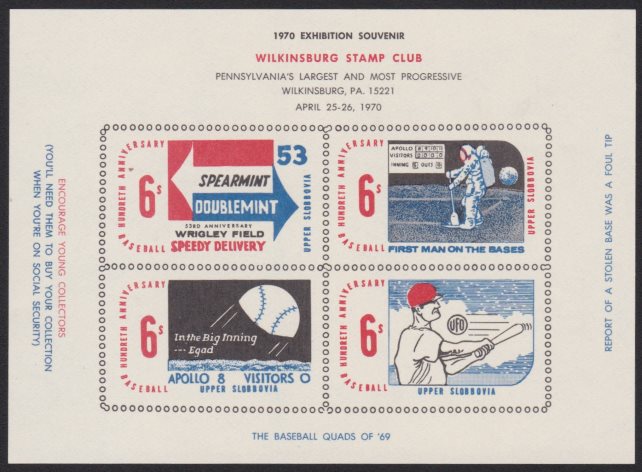 The 1976 sheet bears four stamps picturing "flags of states of our country ignored by the U.S. P.O. Dept.": state of inflation, state of crimiinal prosecution, state of corporate political patronage, and state of phiatelic confusion. The designs spoof the 50-stamp state flags issue of 1976.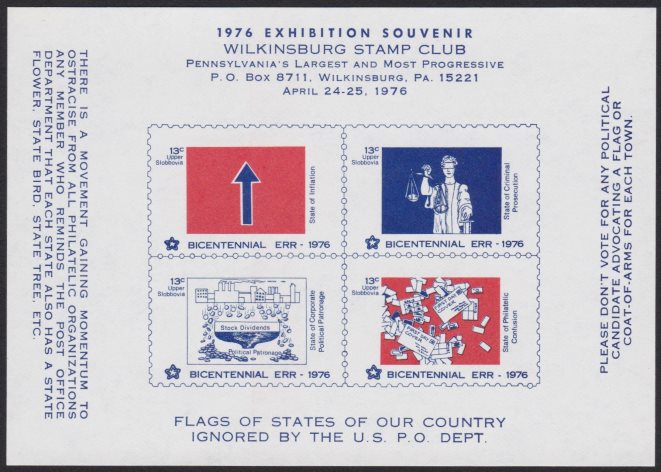 The text along the left side of this souvenir sheet suggests the stamp issue picturing state flags did not impress the souvenir sheet's designer: "There is a movement gaining momentum to ostracise from all philatelic organizations any member who reminds the Post Office Department that each state also has a state flower, state bird, state tree, etc." This tongue-in-cheek protest apparently had little effect since the United States Postal Service did indeed issue a sheet of 50 stamps picturing each state's official bird and flower in 1982.
The Wilkinsburg Stamp Club's website indicates that the first of their Upper Slobovia souvenir sheets was issued in 1961, and the club has produced issues every year since then. An order form on their website indicates that all but the 1961, 1965, and 1966 sheets are still available for purchase.
Published 2019-06-22