The world's tiniest perforating machine
In 2016, I wrote about my Southworth tabletop perforator. It is, as far as I know, the largest of the tabletop perforating machines built in the late 19th and early 20th centuries, capable of perforating a line of tiny holes approximately 15″ long. Full-size, treadle-operated machines sold during the same period were wider, but the Southworth was the biggest model that didn't come with its own cast iron legs.
Today, I'm excited to go to the other end of the scale and tell you a little bit about what may be the world's smallest pinhole perforating machine. To provide a sense of scale, it is shown here sitting on top of my Southworth perforator.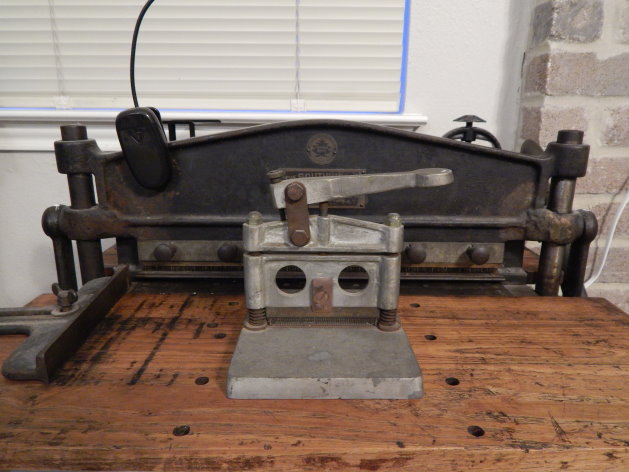 Granted, I have no proof that this is the world's smallest perforating machine. Somewhere, perhaps, there might be an even smaller model, but I've never seen another one nearly this compact, nor any old advertisements for any perforators quite so diminutive.
Physical attributes
When I spotted the listing for this perforator on eBay back in February, I could tell it was small, but I don't think I really understood just how tiny the thing is until it arrived in the mail. The base of this nearly palm-sized perforator measures only about 5″ square, and it is capable of punching a line of holes only about 3″ long.
Even more shocking is how light the perforator is. Despite being made of solid metal, the machine weighs in at only two pounds! This is virtually featherweight compared with the larger antique perforators that are around. It is, as far as perforating machines go, basically a travel-size model.
Flaw, or feature?
My miniature perforator does an excellent job of punching perforations in a piece of paper, but there's one aspect that seems like a bit of a flaw. Unlike larger perforating machines that I've seen, this one lacks a stripper bar, the piece of metal that pulls the paper loose from the perforating pins as they rise out of the metal die. As a result, whatever I perforate tends to "stick" to the pins, and working the paper free is a bit of a pain.
I did discover, however, that it is simple enough to tear the paper away from one side of the perforator, leaving a nicely perforated edge on each side. That works well enough, so perhaps it was the designer's intention.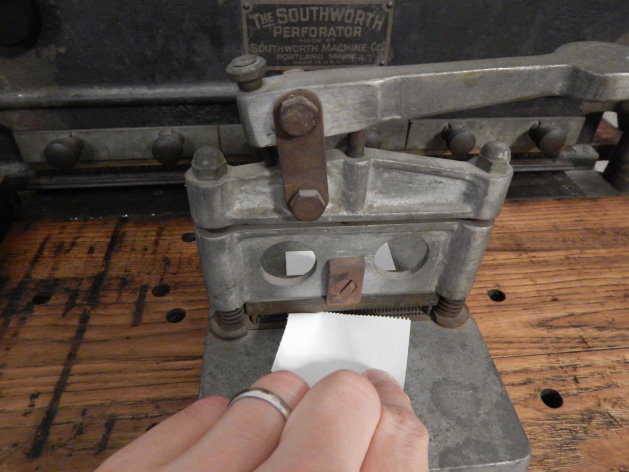 Final thoughts
This perforator will by no means replace my Southworth as it's really too small to be of use in producing sheets of stamps. It is without question the most portable perforator I've ever seen, however; it's light enough and small enough to fit in my backpack, and I plan on keeping it as a demo model that I can carry around to stamp club meetings or shows.
Considering the aforementioned lack of a stripper bar, I'm not entire surely what the original purpose for a machine this small might have been. I can't rule out the possibility that it was created for the sole purpose of producing fake perforations on genuine postage stamps, but it seems remarkably well made to be a counterfeiter's one-off production. Perhaps it was intended to do something other than perforate stamps, but I really don't know.
I also have no information regarding how old the machine is, or even who produced it. The perforator has no such identifying markings; indeed, there are no markings at all except the number "11" punched or hammered into the back of the perforator head. Does that mean that at least 10 more of these tiny perforators were built? Once again, I don't know, but if you have any information, I would certainly be grateful to hear it.
Published 2020-04-23