The Minute Man graces high value Postal Savings stamp
When I announced late last month that a set of pages for United States savings stamps was available for The Philosateleian U.S. Stamp Album, I had no such stamps in my own collection. Now, thanks to reader Steve R., I do have one, and it's a beauty: a $5 United States Postal Savings stamp originally issued in 1941.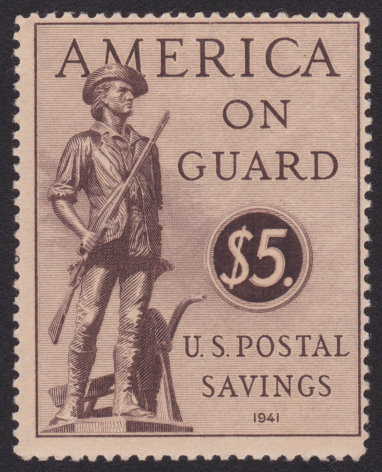 The stamp pictures Daniel Chester French's The Minute Man, and although it's not necessarily apparent from the scan above, it's an impressive piece in terms of size alone. At roughly twice the width and twice the height of a standard United States definitive stamp of the same era, it covers an area roughly equivalent to a block of four definitive stamps!
In Postal and Treasury Savings Stamp Systems: The War Years, Dr. Harry K. Charles Jr. explains that this stamp and its standard definitive sized 10¢, 25¢, 50¢, and $1 siblings could be saved up and redeemed for defense or war savings bonds. A booklet produced specifically for the $5 stamp contained spaces for 15 copies; for that total expense of $75, the buyer could purchase a $100 savings bond redeemable for its full value 10 years after purchase.
Will I ever own a complete collection of postal savings stamps? It doesn't seem likely, but this is certainly a good place to start! I can't thank Steve enough for so generously sharing a spare from his own collection with me.
Published 2020-05-20