Still alive: the latest from Philosateleia
It has been nearly three weeks since I last posted, but I'm still alive. My wife and I have had the opportunity to spend some time with family and friends, and work has been busy. That has left little time for Philosateleia.
There are a few things going on, however. First, I want to thank Jack H. for his recent contribution showing his support for Philosateleia. Jack is the latest addition to a long list of individuals who have helped out, and his gift helps ensure the free stamp album pages and other resources this site has to offer continue to be available.
Second, I recently received a mailing from a longtime collector friend, Demetrios, who used a $4.50 Australian stamp picturing Cradle Mountain in Tasmania. Is this not beautiful?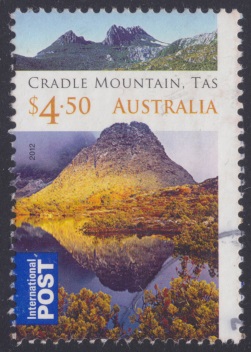 Finally, I've been listing a few old covers on eBay. Most sell for only a dollar or two, but occasionally there's a nice surprise that reaches double digits. I'll take it!
I hope you're having a nice summer (or winter, if you're in the southern hemisphere) and finding a little time for your stamps. Happy collecting!
Published 2014-07-14