Stamps on trains
At first glance, you might think the title of this post is wrong. This is, after all, a blog about stamps and stamp collecting, so surely I mean trains on stamps?
That is a reasonable guess. And it's wrong. Let me explain.
My family and I last month visited the Texas Transportation Museum here in San Antonio. In addition to having a couple of old diesel locomotives and a few pieces of rolling stock, the museum has a large building full of old cars, posters, and model trains, including a nicely done HO scale layout running the length of one wall. It was there that I saw my very first stamp on a train since one of the boxcars in the layout bears an image of the 34¢ Greetings from New York stamp from the 2002 Greetings from America sheet.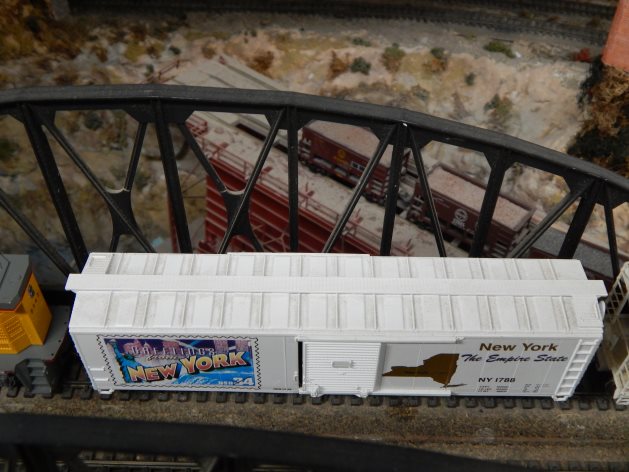 Although it's not something I've ever pursued, model railroading is a hobby that has always held a certain amount of attraction for me. That's more than likely because my granddad would take me down to his basement when I was a kid and show me his model train setup. It's a nostalgia thing, and something that I connect with him.
Add stamps to the mix, and I feel a sudden urge to put on a conductor's cap and start laying track. It may be a good thing that I don't have room to do so! Anyway, this just goes to show that you can find stamps in unexpected places.
Published 2019-06-06