Stamps in the library (e-mail)
Most of the places I see stamps pictured online are websites that deal with stamp collecting. Yesterday morning, however, I received an e-mail from the Jacksonville Public Library system highlighting some of the library's planned activities for Black Heritage Month, and the message's header was full of stamps!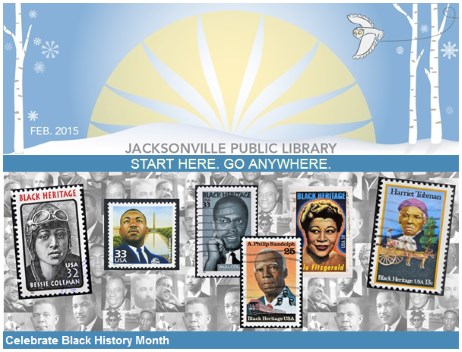 Further down in the email, there was also a picture of the 37¢ Zora Neale Hurston stamp issued in 2003.
Interestingly enough, nothing in the library's message had anything to do with stamps or stamp collecting. Apparently someone there decided the sampling of United States stamps would make for nice artwork, and I can hardly argue with that.
This is not the first time I've seen stamps used as illustrations in a non-philatelic e-mail message; I previously highlighted a fantasy stamp pictured in a World Market marketing e-mail. I don't know that that sort of thing is necessarily going to inspire anyone to take up stamp collecting, but it's still neat for me as a collector to see.
Have you spotted any stamps lately in e-mails where you wouldn't expect to see them?
Published 2015-02-03