Stamp catalogues: the value of depreciation, and their growing size
Last fall, I decided to take the plunge and replace my set of 1998 Scott catalogues. Although they had served me well since an aunt found them at a library book sale many years ago, a couple of decades worth of stamps have been issued since those catalogues were published. It was arguably time to move on, but I had a decision to make: which year set would I purchase?
At nearly $125 per volume, the six-volume 2017 catalogue set was a bit rich for my blood, especially since I use the worldwide catalogues more as an identification tool than to find current market values. Meanwhile, the 2016 catalogue set was much more within my price range, but would still cost more than $200 even if purchased used.
The sweet spot for me was the 2015 set. At only a couple of years old, it was a vast upgrade over what I had been using, but at a fraction of the cost of the newer catalogues. I searched Amazon.com and eBay, and for a grand total of $87.88—that's less than $15 per volume, or approximately 12% of the cost of the newest edition—I was about to purchase the complete 2015 set of catalogues. That total included shipping.
This approach wouldn't necessarily work for everyone; if you're very active in the stamp trade, you may need a reference containing the absolute latest market values. I would suggest that the majority of collectors are not necessarily in that group, however, and if you're like me, going back a couple of years can save you a lot of money on your stamp catalogues.
2015 Scott Catalogue Volume 1 (countries A–B)
2015 Scott Catalogue Volume 2 (countries C–F)
2015 Scott Catalogue Volume 3 (countries G–I)
2015 Scott Catalogue Volume 4 (countries J–M)
2015 Scott Catalogue Volume 5 (countries N–Sam)
2015 Scott Catalogue Volume 6 (countries San–Z)
Getting fat
As you may have heard, Amos Publishing this year will break each of the existing six volumes into two parts, turning the 2018 set into a 12-volume collection. That certainly won't do anything to make the catalogues less expensive, but the existing format has apparently been stretched to its limit by the number of new stamps issued in recent years.
Don't believe me? Take a look at the difference in size between my existing 1998 catalogues and the 2015 catalogues: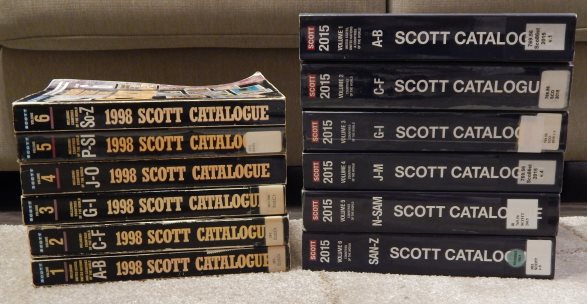 Just eyeballing it, I'm guessing the 2015 catalogue set is approximately 30% thicker than the 1998 set. That suggests to me that approximately one third of all postage stamps ever issued have been released within the last 20 years or so. Good luck trying to keep up with the flow of new issues!
Out with the old
My 1998 catalogue set will soon be on its way out the door—unless, of course, you want it. I'll happily send the set, or any portion thereof, to you if you pay the shipping costs. If you're interested, send me a note with your mailing address, and I'll provide an estimate of how much it would cost to send the catalogues to you.
Published 2017-01-02 Last updated 2021-01-17