Sick cover made well
Although I've been collecting stamps for well over 20 years, it has only been within the past two or three that I've had any contact at all with the mail art community. I do not think of myself as an artist; even my Philosateleian Post creations I refer to as local post stamps, not artistamps. There is a fine and sometimes blurred line between the two, but that is perhaps a subject for some other time.
Just because I'm not an artist myself, however, doesn't stop me from being impressed and sometimes amazed at some of the pieces that individuals in the mail art community create. For example, consider this cover that I received in the mail last week.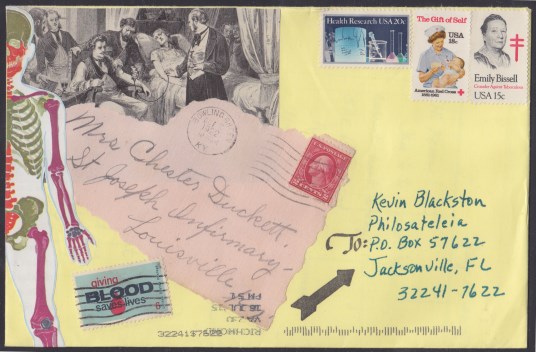 The cover's designer, Linda W., took a fragment of an old envelope which was addressed to a patient at an infirmary in Louisville, Kentucky, and combined it with an illustration of a woman on her sickbed, along with an illustration of a human skeleton and several medical-themed stamps.
I'm not even sure how to describe this any further other than to say it is awesomeness. I certainly wouldn't endorse the destruction of a valuable cover, but the fragment with which Linda started was so ragged that it had no value in philatelic terms. Because of that, it is a joy to see that it could be reused and repurposed to create a work of art.
Published 2015-07-26