Purgatory Post issues stamp picturing Prentiss Bridge
Purgatory Post continued its series of stamps commemorating New Hampshire covered bridges with the release on February 2 of a 19-sola stamp picturing Prentiss Bridge in Langdon. The design features a black vignette of the bridge set within a blue frame of a type used for the 1901 Pan-American Exposition issue of the United States.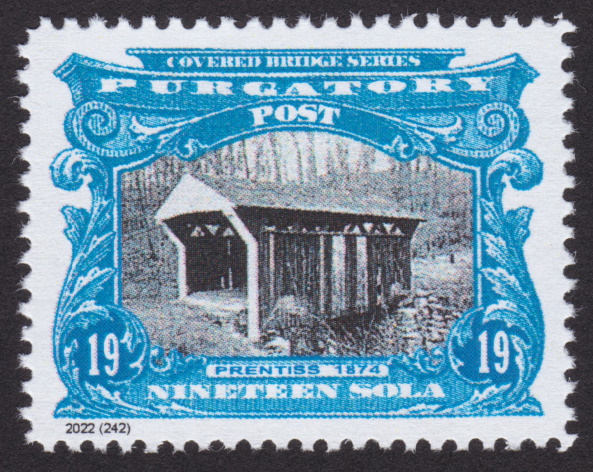 At less than 35 feet long, Prentiss Bridge is the shortest covered bridge in the state of New Hampshire.1 The bridge is the third known to have existed at the site; the first was replaced in the late 18th century, while the current structure was built in 1874.
If you're new to this blog, Purgatory Post is a private local post based in New Hampshire.
References
Marshall, Richard. Prentiss Bridge. NH.gov. Accessed 13 Feb. 2022.
Published 2022-02-13