Purgatory Post commemorates transatlantic flight centennial
The United States last year celebrated the 100th anniversary of airmail in the USA. Earlier this month, New Hampshire-based Purgatory Post commemorated another centennial: the 100th anniversary of the first non-stop transatlantic flight, which originated in St. John's, Newfoundland, on June 14, 1919, and ended in County Galway, Ireland, the next day.
The design of the 15-sola local post stamp is based on an unissued essay prepared by the British printing firm De La Rue in 1922.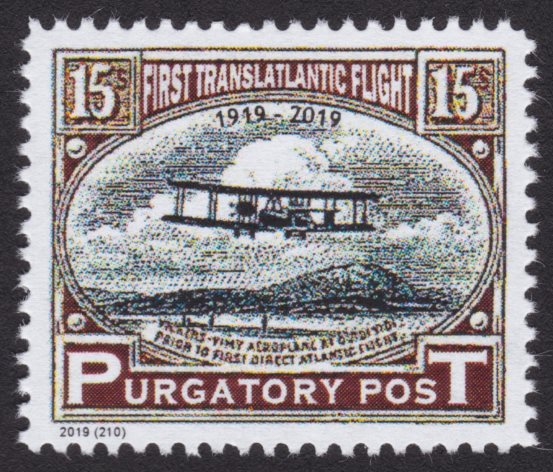 Purgatory Post operator Scott Abbot notes that John Alcock, pilot, and Arthur Brown, nagivator, "carried a small amount of mail on this flight, making it also the first transatlantic airmail flight!" The Scott Classic Specialized Catalogue of Stamps & Covers values covers from that flight at over $1,000 each.
Published 2019-06-19 Last updated 2021-01-17