Purgatory Post commemorates extra long wooden covered bridge
Purgatory Post earlier this month released its latest stamp in a series commemorating the covered bridges of New Hampshire. The 20-sola stamp depicting the Cornish-Windsor Bridge was issued August 10.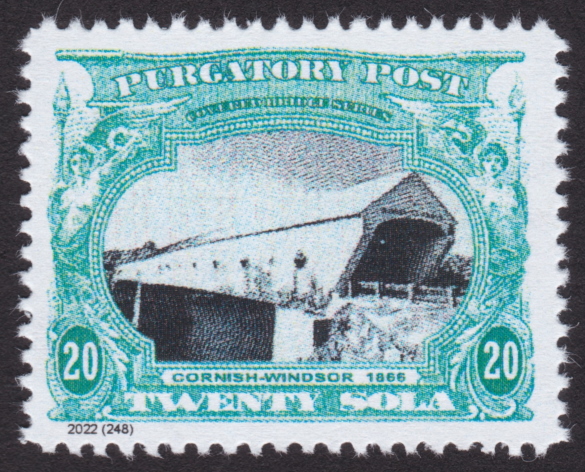 The stamp's vignette is black while the frame is to my eyes a shade of teal or aquamarine.
At just a few inches under 450 feet long, the Cornish-Windsor Bridge was for many years the longest wooden covered bridge in the United States. It spans the Connecticut River between New Hampshire and Vermont.1
The Cornish-Windsor Bridge was built in 1866 for $9,000. Various maintenance and renovation projects culminated with a $4.45 million reconstruction of the bridge in 1989.
References
Marshall, Richard. Cornish-Windsor Bridge. NH.gov. Accessed 24 Aug. 2022.
Published 2022-08-24 Last updated 2022-08-25