Purgatory Post commemorates Burkehaven Lighthouse, Apollo 13
Having to work from home has meant that I haven't been checking my post office box quite so regularly as normal, but I did make a quick trip over this morning to pick up the mail that had accumulated over the past week. Among what I received was a new cover from Purgatory Post…but before I get to that, I need to back up to Purgatory Post's March issue, the last in a set of five stamps depicting working New Hampshire lighthouses.
Burkehaven Lighthouse is one of three functional lighthouses on Lake Sunapee. Purgatory Post operator Scott Abbot says the light, which is pictured on the new 5-sola stamp issued on March 2, was built in 1893 by a pair of brothers who operated steamships on the lake.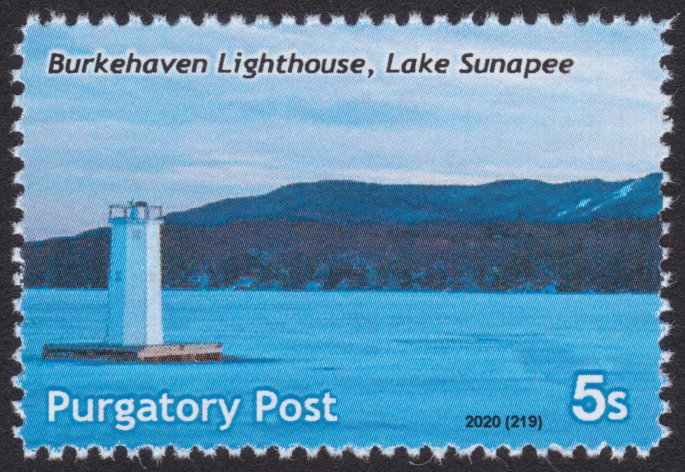 This has been sitting in my mail tray for several weeks, but I am, shall we say, somewhat behind on my blogging. But at long last, here it is.
The stamps on and in the cover I picked up today may have a bit more widespread appeal, especially among collectors of space thematics. The pair of 13-sola stamps commemorate the 50th anniversary of the near-disastrous Apollo 13 mission.

The first of the stamps issued on April 6 pictures Apollo 13 crew members Jim Lovell, Jack Swiger, and Fred Haise, along with their spacecraft's launch. The second pictures the command module that carried the crew back to earth splashing down in the Pacific Ocean, plus the mission patch.
I read over some of the details about the Apollo 13 mission again yesterday, and while that pre-dated me by a few years, it's not at all difficult to get a sense of what a big deal it was for the crew to make it home alive. It's incredible that the crew and their support team on the ground were able to clear one hurdle after another to make that possible, and the anniversary of that mission is certainly well worth Purgatory Post's commemoration.
Published 2020-04-12