Philosateleian Post to commemorate end of World War I
In early 2018, Philosateleian Post will issue a special local post stamp commemorating the 100th anniversary of the end of World War I. The 1-stamp design's vignette depicts a dove, a traditional symbol of peace.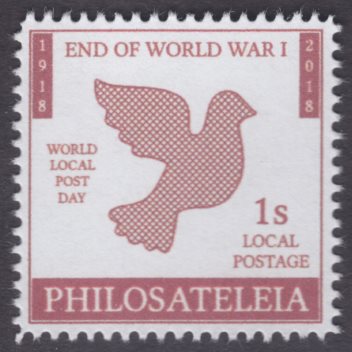 World War I began in July 1914 following the assassination of Archduke Franz Ferdinand of Austria. By the time it ended in November 1918, over 16 million people had died.
"The Great War was a bloody milestone in the history of mankind," says Kevin Blackston, proprietor of the San Antonio-based local post. "This new stamp is intended not to glorify the war, but to commemorate the peace that followed, short-lived though it was."
Philosateleian Post's End of World War I stamp is scheduled to be issued on World Local Post Day, January 29, 2018. The Local Post Collectors Society, which sponsors World Local Post Day on the last Monday of each January, selected the centennial of the end of World War I as the topic for the upcoming event.
Technical Specifications
Format: sheets of 48 (6×8). Design size: 28×28 mm. Separation method: perforated 12. Adhesive: water-activated dry gum. Printing method: inkjet.
Philatelic Services
To receive a mint single of Philosateleian Post's End of World War I stamp, or for first day cover service, send either $2 or a self-addressed stamped envelope and your request to:
Kevin Blackston
Philosateleian Post
PO Box 17544
San Antonio TX 78217-0544
United States of America
About Philosateleian Post
Founded in 2004, Philosateleian Post transports mail only from the proprietor's home to the nearest mail receptacle or post office, and does not compete with any official mail service. For more information, please visit http://www.philosateleia.com/post/
Published 2017-12-18