Philosateleian Post to celebrate LPCS Golden Jubilee
In 1972, several collectors of modern local post stamps banded together to form the Local Post Collectors Society, and in 2022, Philosateleian Post will issue a commemorative stamp celebrating the organization's golden jubilee, or 50th anniversary. The new stamp is scheduled for release on January 24, 2022.
The new 1-stamp stamp features the LPCS logo in red within a dark gray frame. A tablet at the bottom of the frame notes the stamp's release in connection with World Local Post Day, which is celebrated each year on the fourth Monday of January.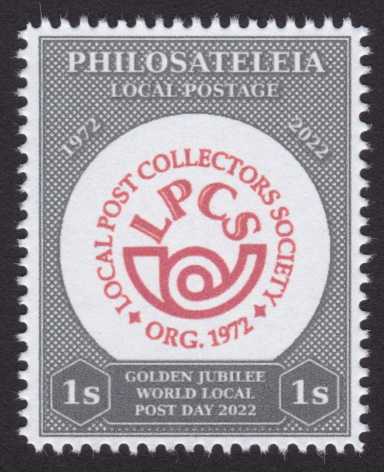 The Local Post Collectors Society promotes the study and collection of stamps issued by modern local posts such as Philosateleian Post through its bimonthly journal, The Poster, and supports its members in operating their own private local posts. The organization recently announced that it would lower annual dues rates for 2022 to just $15 for members in the United States and $20 for members outside the United States, and individuals with an interest in local post stamps are welcomed to apply for membership.
Technical Specifications
Format: sheets of 36. Design size: 28×36 mm. Separation method: perforated 12. Adhesive: water-activated dry gum. Printing method: inkjet.
Philatelic Services
To receive a mint single of Philosateleian Post's LPCS Golden Jubilee stamp, or for first day cover service, send either $2 or a self-addressed stamped envelope and your request to:
Kevin Blackston
Philosateleian Post
PO Box 17544
San Antonio TX 78217-0544
United States of America
Published 2021-12-23