Philosateleian Post marking New South Greenland discovery
In March 1823, Captain Benjamin Morrell recorded sighting land to the west of his ship, the Wasp, as it sailed through the Southern Ocean. He referred to the landform as New South Greenland and would later record his observations in his memoirs, A Narrative of Four Voyages.
The problem? Based on the positions recorded by Captain Morrell, his ship was nowhere close to land of any sort. Some contemporaries doubted his discovery, but nearly a century passed before explorers such as Sir Ernest Shackleton definitively confirmed there was nothing but open ocean at the locations specified by Morrell. Until then, New South Greenland's existence remained a possibility.
Philosateleian Post plans to issue a commemorative local post stamp to celebrate the bicentennial of Captain Morrell's "discovery" of New South Greenland. The first day of issue is set for Monday, July 31, 2023.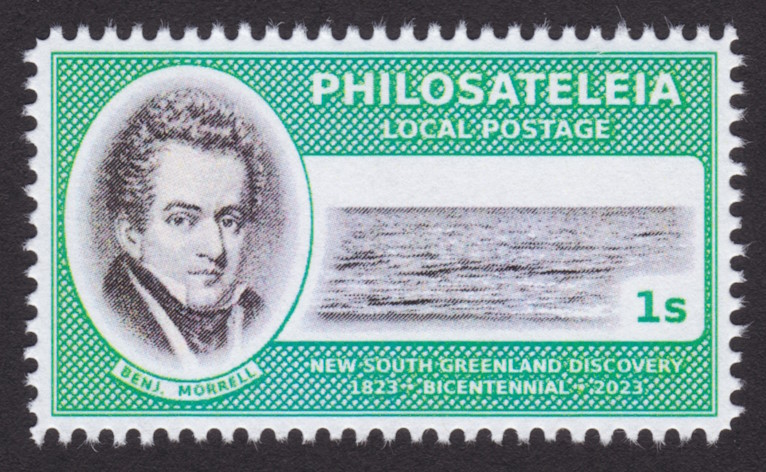 The new stamp features a portrait of Morrell based on an engraving originally printed in his memoirs, as well as an image of open ocean waters. The stamp is being printed in green and black.
Philosateleian Post proprietor Kevin Blackston was quick to point out that in spite of the humor involved in commemorating the discovery of a phantom land, there is something about the story of New South Greenland that might hit a personal nerve.
"I think we've probably all had moments where we thought we saw something but it turned out to be something different, or where we remember things happening one way but find out our memories aren't quite so good as we thought," says Blackston. "The only difference is that Captain Morrell happened to write down what he believed he saw."
As for what Morrell identified as New South Greenland, historians fall into two camps. Some think the Wasp may have been much further west than the captain believed and that he actually spotted the coast of Graham Land, while others conclude that he must have seen a mirage, an event not uncommon in Earth's polar regions.
Technical Specifications
Format: sheets of 36 (4×9). Design size: 42×23 mm. Overall size: 45×26 mm. Separation method: perforated 12. Adhesive: water-activated dry gum. Printing method: laser.
Philatelic Services
To receive a mint single of Philosateleian Post's New South Greenland Discovery Centennial stamp, or for first day cover service, send either $2 or a self-addressed stamped envelope and your request to:
Kevin Blackston
Philosateleian Post
PO Box 217
Floresville TX 78114-0217
United States of America
Published 2023-06-21