Philosateleian Post celebrates Grand Canyon National Park centennial
San Antonio-based Philosateleian Post will commemorate the 100th anniversary of the establishment of Grand Canyon National Park next month with the release of a special local post stamp marking the park's centennial. The planned first day of issue is May 15, 2019.
The stamp's vignette is based on a photograph taken by Philosateleian Post proprietor Kevin Blackston during a cross-country trip in the 1990s.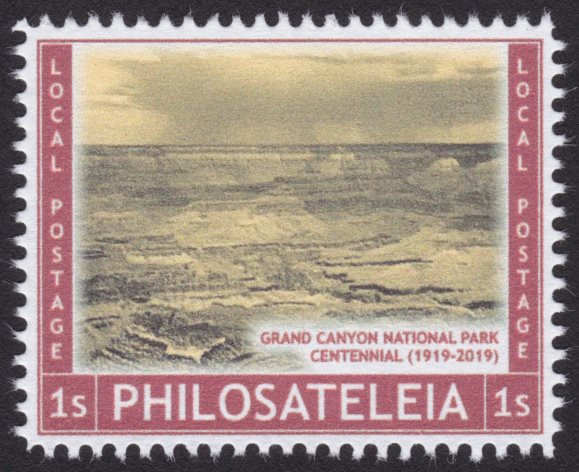 "Grand Canyon National Park was the first of America's national parks that I had the opportunity to see in person," says Blackston. "Some people say it's just a big hole in the ground, but there is a certain beauty and immenseness that certainly justifies a visit."
Grand Canyon National Park was officially established in February 1919. It is the third national park to be featured on a Philosateleian Post stamp, following Yosemite National Park in 2014 and Great Smoky Mountains National Park in 2016.
Technical Specifications
Format: sheets of 36 (6×6). Design size: 36×28 mm. Separation method: perforated 12. Adhesive: water-activated dry gum. Printing method: inkjet.
Philatelic Services
To receive a mint single of Philosateleian Post's Grand Canyon National Park Centennial stamp, or for first day cover service, send either $2 or a self-addressed stamped envelope and your request to:
Kevin Blackston
Philosateleian Post
PO Box 17544
San Antonio TX 78217-0544
United States of America
Published 2019-04-10