Philatelic detective work: who was E.C. Goodrum?
One of the most fascinating things about stamp collecting, to me, is the historical aspect of it. Postal history, in particular, seems to provide a link with the past, a connection, if you will, to something that happened long ago.
I've been researching an old World War II-era cover that I acquired as part of an accumulation several years ago. The original letter is unfortunately no longer enclosed. The cover bears a very common stamp—the 6¢ transport plane stamp that was ubiquitous on airmail of that time—and a "Passed by Naval Censor" marking that's also not particularly uncommon. In short, it looks like a run-of-the-mill piece of mail sent by a service member during World War II.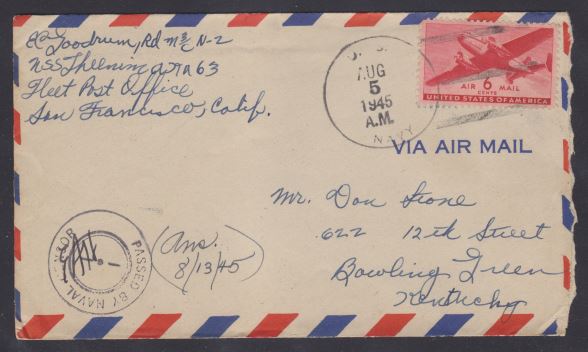 The return address bears the name of the USS Theenim, a Coast Guard-operated attack cargo ship that was used in the Pacific theater during the final year of the war. One thing that caught my attention was the postmark: August 5, 1945. That was the day before the atomic bombing of Hiroshima, Japan.
Who was E.C. Goodrum?
The return address indicates the sender was E.C. Goodrum, and the recipient was Dan Stone of Bowling Green, Kentucky. My next puzzle was to see what I could find about Mr. Goodrum.
A bit of searching online revealed a newspaper article from the early 2000s that revealed that Mr. Goodrum was a radar operator on board the USS Theenim, and that he later co-owned a funeral home in Bowling Green, Kentucky, before moving on to other pursuits. I even ran across an obituary indicating he died in 2007.
Finding a home
While an interesting piece for the aforementioned reasons, this cover doesn't exactly fit into my collection. At the same time, the stamp is common, the markings are common, and there really isn't a great deal of philatelic value here. I decided to see if I could track down Mr. Goodrum's family.
Once again, an Internet search came through, and I found information that allowed me to make contact with Mr. Goodrum's widow. She was nice enough to speak with me for a few minutes yesterday, and I plan to send the cover to her this coming week.
Ruminations
I have to admit, it was pretty cool to find someone with a connection to a cover mailed nearly 70 years ago. There was a time when I would have had no way of finding out what I did learn, and certainly no way of tracking down a family member of the sender. I hope Mrs. Goodrum will enjoy it.
Published 2014-04-05