New U.S. landscape stamp to commemorate West Virginia statehood
For those of us who collect landscape stamps, there's some great news from the United States Postal Service today. According to the USPS Stamp of Approval blog, a stamp commemorating West Virginia's statehood sesquicentennial will be issued later this year, and it's a beauty!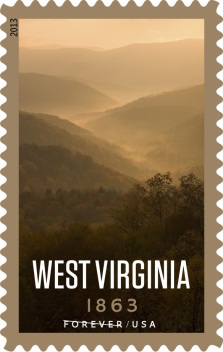 According to information released today about the stamp, the scene it pictures is from Monongahela National Forest in eastern West Virginia. While it's hard to beat the engraved designs of yore, this is one of the prettiest stamps announced so far this year, and I look forward to adding it to my landscapes collection when it's issued. (No issue date has been announced yet.)
What do you think of the West Virginia stamp? Share your thoughts below.
Published 2013-01-09