Monitor perforator being sold in Illinois
I don't usually promote the sale of something I don't even own, but there's something located about an hour south of Chicago that I want you to know about: an antique pinhole perforator!
I suspect this Monitor Perforator (by Latham) probably belonged to the late Jim Czyl; don't know it for a fact, but based on the location, it makes sense. And from the couple of photos in the estate sale listing, it really appears to be in fine condition.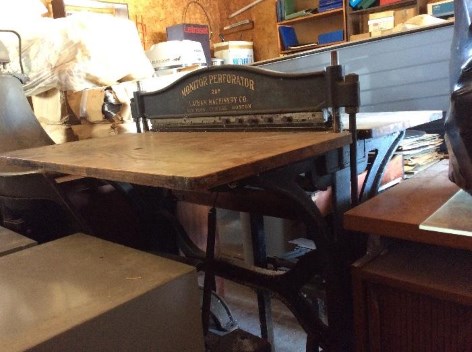 This is far too big and heavy and far away for me to have any serious interest, but it would be a shame to see this piece end up in a dusty corner of some antique store—or worse yet, at a scrap yard! The estate sale is being held March 12–13, and the asking price for the perforator is $500, so if you're in the market for a perforator and within a few hours' drive of Chicago, check out the listing for contact information.
Published 2015-03-03