Let's all give her a hand
A few weeks ago, I bundled up a handful of dilapidated old envelopes and shipped them off to Linda W. of Happy Day Mail fame. Linda is a mail artist who had indicated that she might be able to do something with them, and as they were unsalvageable for philatelic purposes, I figured she could have at it.
The results, simply put, are absolutely delightful.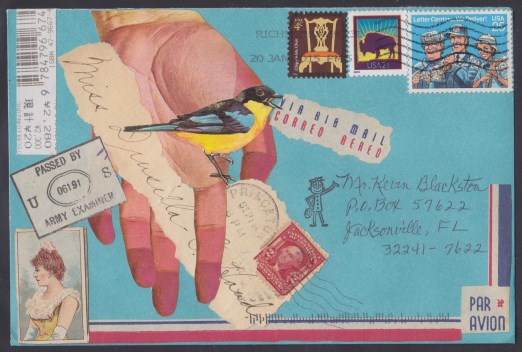 As you can see, Linda took pieces of at least a couple of different envelopes, along with some other paper ephemera, and created this lovely piece of mail art. There's even a visual gag: the scrap of old envelope being grasped by the hand is addressed to Miss Drusilla Hand. Get it? Get it?
I've joked to friends in the past that I create stamp album pages because I'm not very creative, and my album pages just involve row after row of squares. Linda's envelope, on the other hand (pun intended), is very creative, and I'm glad she's able to give new life to old envelopes that would otherwise be destined for the trash bin.
Along those lines, that's why I hate to throw away old stamps or covers, and discourage others from doing so. Such material may not be fit for your stamp collection, but unless it's moldy, there might be someone out there who can make something special.
Published 2015-02-10