House of Seagram poster stamps honor states
Last month I made a trip to Wisconsin, and while browsing in a thrift store I found an old stamp album. All the stamps had been removed, but the album did contain a folded sheet of 48 poster stamps, or cinderellas as they're known in the stamp collecting world, honoring U.S. states.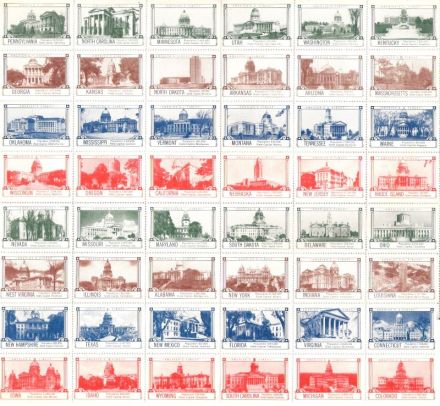 These were apparently produced before 1959 since that's the year Alaska and Hawaii achieved statehood. Based on the population figures printed on the stamps, and historical census data, I think 1930s or 1940s is a reasonable guess.
The stamps are printed in four different colors: green, brown, blue, and red. On the back of each stamp is printed the phrase, "Compliments of The House of Seagram." The front of each stamp includes the phrase "America's Finest," a state's name and a picture of its capitol building, and the state's population.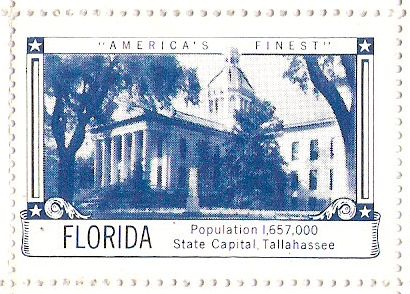 I don't know what the story is behind these poster stamps, but they're a nice looking set!
What are they worth?
I saw a sheet of these sold last year for the equivalent of about US$40. Unfortunately the sheet I found has some creases and wrinkles and lacks selvage (the paper around the edges of a sheet of stamps) and probably wouldn't be worth quite that much, but it's still an interesting piece.
Have you seen these poster stamps before? Can you add any details about when or why they were produced?
Published 2009-11-11