Generous collector shares Hawaiian postal card clipping
Although I've long been aware that Hawaii—first the kingdom, and then the republic—issued postage stamps prior to becoming part of the United States of America, I've never put much effort into pursuing those things. There are some really pricey Hawaiian stamps even once you get past the famous Missionaries.
This week, I did receive a surprise mailing from Brian W., one of the users of The Philosateleian U.S. Stamp Album. He sent several items for my collection, including a clipping from a Hawaiian postal card issued in either 1894 or 1897. Knowing the size of the frame around the edge of the postal card would help us pinpoint the exact year, but since we're working with a cut square, we can't get any more specific.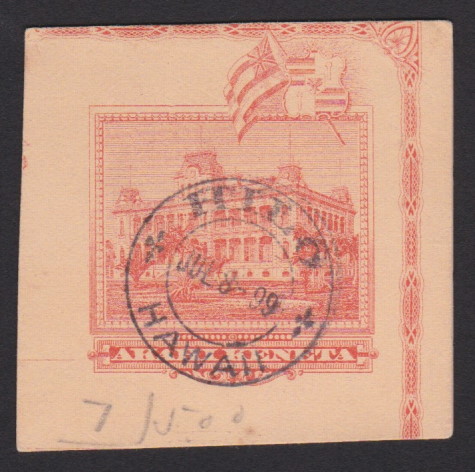 The design pictures ʻIolani Palace, which was the residence of Hawaii's rulers during its time as a kingdom, and later capitol building for the republic, territory, and state. As you can see, this item was postmarked in Hilo, Hawaii, on July 8, 1899, less than one year before Hawaii became a U.S. territory.
Intact, this postal card is worth a bit of money; my aging Scott Specialized Catalogue values it at $40! Postal stationery collectors tend to frown upon cut squares from postal cards, however, which means this has very little retail value, but I'm still thankful to have it.
Brian noted that he was sending this item and the other stamps he included as a token of appreciation for my work on The Philosateleian. While that's not at all necessary—I offer my album pages for free as a means of giving back to the hobby in some small way—I do appreciate such surprises when they show up in my mailbox. So, as we get ready to enter Thanksgiving week, I want to say thank you to Brian and other supporters who have contributed over the years.
Published 2022-11-19