Creating landscape stamp album pages once again
I had a couple of days off at the beginning of the year, and having already caught up on some other projects, took time to clean some things out of a couple of boxes of stamps and albums. In the process, I rediscovered (again) a couple of stacks of landscape stamps that I acquired over the past three years or so, and I'm slowly beginning to work my way through them.
As I may have mentioned previously, I create custom album pages for my landscapes stamp collection, using a different background image based on a stamp for the pages for each site and trimming the resulting page down to 5½″×8½″, half the size of a normal sheet of paper. I had not done any since the summer of 2017, but here are a couple that I created recently for stamps picturing Grand Anse Beach, Grenada, and Long Beach, Ascension Island.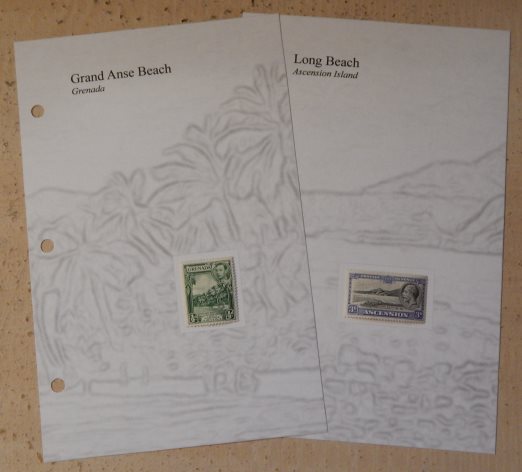 I already have somewhere in the neighborhood of 650 such pages done—overall, of course, not since the beginning of the year. Creating custom backgrounds does take extra time, but I really like the results, and it's not an impossible task for a collection of relatively limited scope.
Published 2019-01-19