Cal Farley's Boys Ranch joins faux postage movement
I'm gradually getting caught up on things after time out of town, and wanted to share the latest interesting business reply envelope that I've received as part of a nonprofit mailing, this one from Cal Farley's Boys Ranch.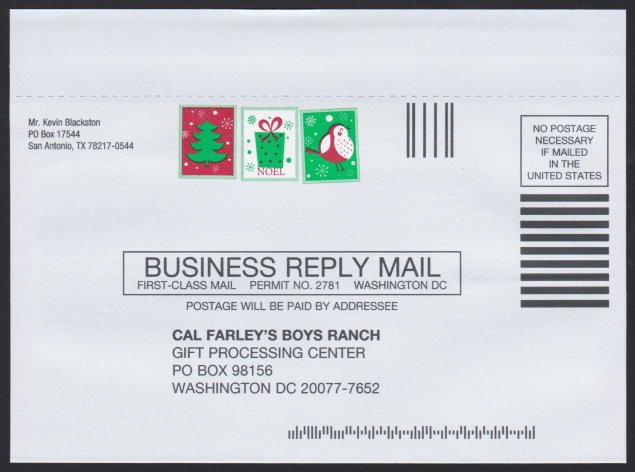 The holiday-themed designs picture a Christmas tree, a present with the word "Noel," and a bird.
At only 7″×4⅛″, this is an unusually small business reply envelope, and the faux postage stamp designs on the front are smaller than one would expect real stamps to be, but it's obvious that the mailer was trying to give the impression of stamps being present.
Although I've received numerous BREs from Boys Town, which is the first organization that I knew was using stamp-sized labels or preprinted designs, this envelope is the first of that sort that I've received from Cal Farley's Boys Ranch.
Published 2020-10-18