Bat's Private Post releases Devil's Garden, Hermes stamps
I have a couple of new stamp issues from Bat's Private Post out of Beverly Hills, California, to report.
The first is a 20¢ stamp picturing The Devil's Garden near Palm Springs, California. Bat's Private Post in February issued a set of nine official stamps featuring the same scene, but those were printed on white paper. The new stamp is printed on fuchsia paper and covers Bat's fee for mailing a postcard or letter at a Mexico City post office.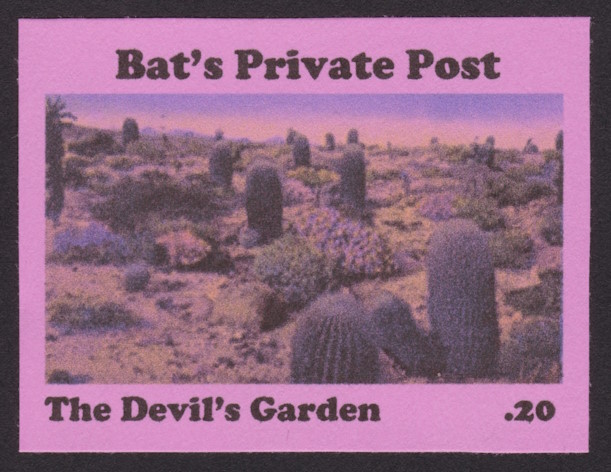 Oddly, the envelope containing the copy of this stamp that I received was mailed in April, but it only reached me this month, and I'm not even that far north of the border! Not sure where this was floating around in the interim.
More recently, Bat's Private Post on July 18 issued a set of four stamps depicting a sculpture of Hermes by Flemish artist Giovanni Bologna.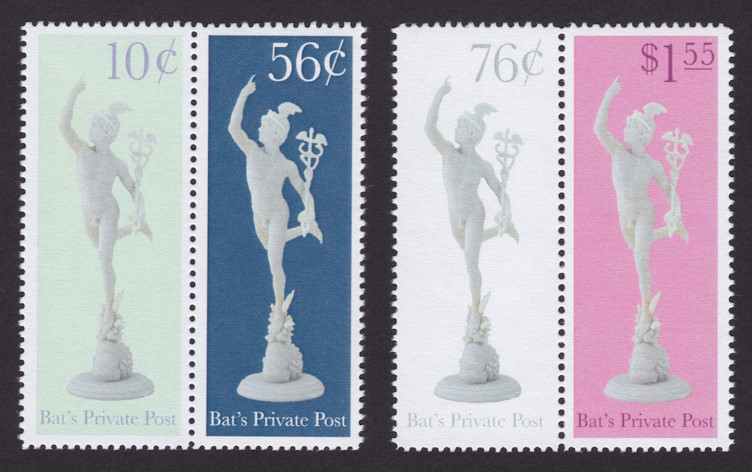 The 10¢ stamp covers Bat's fee for transporting a local letter to a post office. The 56¢ and 76¢ stamps cover Bat's and United States postage for domestic postcards and letters, respectively, while the $1.55 stamp covers Bat's and United States postage for First-Class Mail International letters and postcards.
Published 2023-07-30