Bat's Private Post memorializes Queen Elizabeth II
For me—and probably for a lot of other people—Queen Elizabeth II was always the Queen of England. I know that history says otherwise, but she had been on the throne for over three decades before I was even born. No human lives forever, but it's still strange to think that she is no longer the monarch.
Beverly Hills-based Bat's Private Post was to the best of my knowledge the first stamp producer to release a Queen Elizabeth memorial stamp. Bat's issued a 65¢ stamp picturing the Queen on September 8, the same day she died.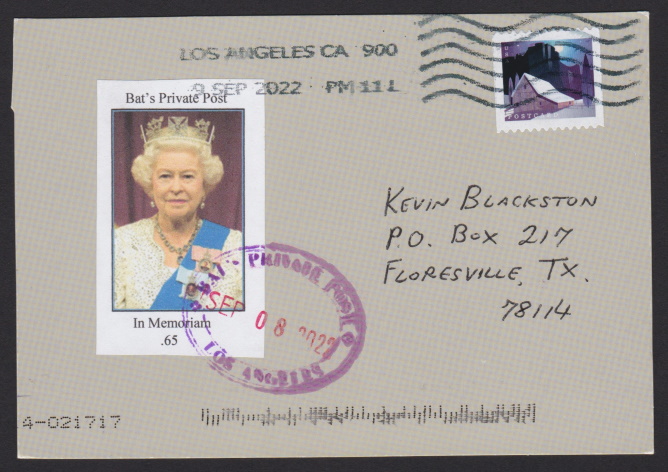 A copy of the new stamp is tied to the postcard pictured above by a September 8 Bat's Private Post postmark and a Los Angeles, California, machine cancellation dated September 9.
The 65¢ denomination covers Bat's Private Post's normal rate for a domestic letter for which Bat's supplies United States postage. In the pictured usage, it overpays the normal Bat's Private Post postcard rate of 49¢, but considering the quick turnaround required to prepare and release this stamp, unorthodox uses might almost be expected.
Published 2022-09-19