Bats, Books, and Ruth Bader Ginsburg
Although my own Philosateleian Post's most recent new issue was in September, several other local posts have issued new stamps since the beginning of October.
First is a set of three stamps issued October 7 by Bat's Private Post in Beverly Hills, California, in advance of Halloween. The 5¢ and $1.25 stamps depict a bat, while a black cat is featured on the 60¢ design. A press release included with the stamps identifies the 5¢ stamp as intended for postcards, the 60¢ stamp as intended for domestic letters, and the $1.25 stamp as intended for international letters of up to one ounce.

These self-adhesive stamps feature an interesting scalloped die cut, giving them a very eye-catching appearance when used on cover.
Next on our list, Como Park Post in Minnesota released a 3¢ stamp picturing a book with the word "READ" on the spine. I have not seen any official information regarding the stamp just yet, but the cover I received bears an October 1 postmark.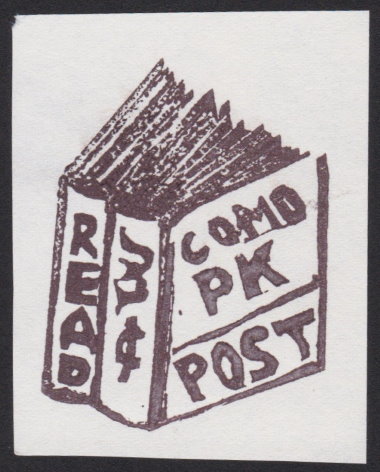 The stamp appears to be another of operator Tom B.'s woodcut designs, which although perhaps lacking the slickness of some other local posts' stamps bears testament to the amount of time Tom puts into his creations.
Last but not least, New Hampshire-based Purgatory Post on October 6 issued a stamp commemorating late Supreme Court Justice Ruth Bader Ginsburg (1933–2020). The 27-sola denomination represents the 27 years that Ginsburg served on the Supreme Court.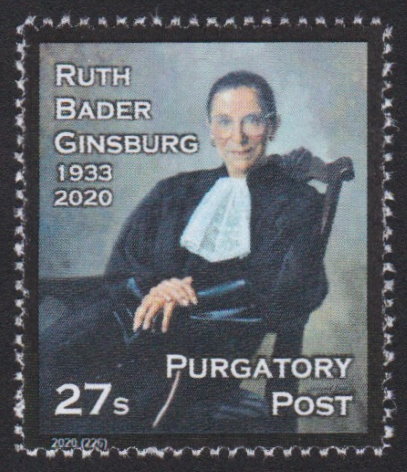 I might take a moment, if you're interested in modern local post material, to recommend that you consider joining the Local Post Collectors Society. Our bimonthly journal, The Poster, includes announcements and articles about stamps of this nature.
Published 2020-10-22