Antique tabletop pinhole perforator for sale
Update: this machine has been sold. Thank you for your interest!
When I finally had the opportunity to purchase an antique tabletop perforator in December 2014, I was absolutely ecstatic. Although I had been searching for one of the old machines for quite some time, I wasn't sure that I would ever find one, or that I would be able to afford it if I did. There seem to be a lot more people who want one of these for producing local post stamps or artistamps than there are machines to go around. Owning my very own perforator was a dream come true—a once-in-a-lifetime event, I thought.
Until this past January.
In January, I had the opportunity to purchase a second tabletop perforating machine. I have a few things to say about that machine, and I'll share some photos in a future post, but that purchase means I now have a spare. The perforator I bought in 2014 is now surplus, and beautiful as it is, it's time to sell.
About the perforator
When I bought my original perforator, I wasn't sure who built it. Machines that were manufactured by Rosback are most common, but they are all marked pretty clearly as being manufactured by Rosback, and my perforator had no such label on it.
It turns out that what I have is what was described in printing trade supply catalogues from around the beginning of the 20th century as a Franklin Hand Perforator, so named because it is operated by hand instead of using a foot pedal or treadle as is the case with larger antique perforators. I think Scott A. of Purgatory Post discovered an example of the ad. The machine originally sold for the princely sum of $25; that doesn't sound like much money, but it was 1,250 times as much as it cost to mail a letter at that time.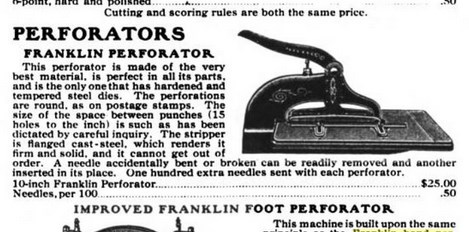 My perforator originally sold with a wooden table that lent support to whatever was being perforated. That was gone probably long before I ever saw the machine, but the perforator works just fine without it, and a replacement table ought to be easy enough to create. The perforator is really in excellent condition overall. It even has its original paint job, as you can see by comparing the following photos with the above catalogue illustration.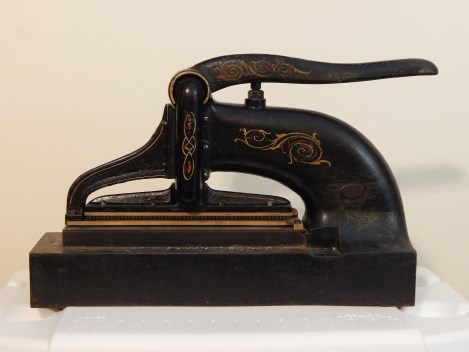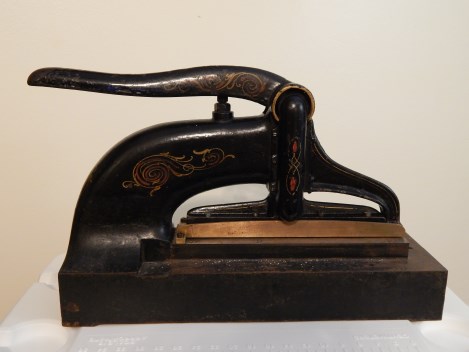 The Franklin perforator weighs 45 pounds, and its base has a footprint of 18 inches long by 6 inches deep. The pins that were in the machine when I acquired it were pretty badly worn, so late last year I installed a brand new full set of replacements. The machine does accomodate Rosback-manufactured pins, which are still available to perforator owners, and that's what I used. In the ad pictured a bit earlier on, you may have noticed replacement pins (or "needles") were available for 50 cents per 100. It now costs more than that to buy a single Rosback pin. Talk about inflation!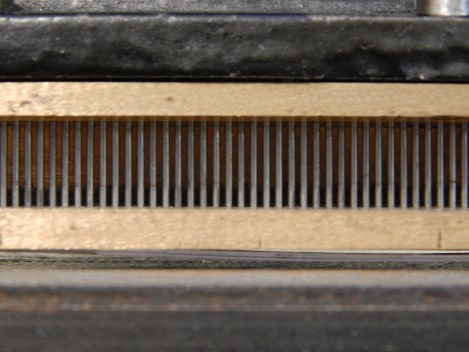 I doubt I've perforated more than a couple dozen sheets of paper since installing the new pins. They do leave an occasional hanging chad or bit of paper, but if you punch two sheets of paper at once, the top sheet ends up with perfectly clean holes.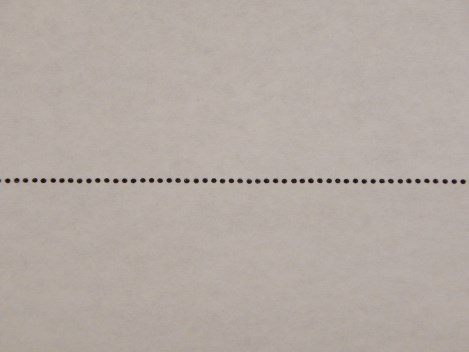 I wouldn't mind keeping this lovely thing for myself. It's really a beautiful piece of machinery and it works very well. When I began my search for a perforator, though, I was searching for a tool, and since I've acquired another…well, quite frankly, I really don't need two perforators. It's time to let this one go.
My price
I'm asking $650 plus shipping, which will be done via UPS. If you want to pick up the machine from the Jacksonville or St. Augustine, Florida, area, you'll save the cost of shipping.
If you're interested, please send me a note now. Include your ZIP code (unless you would plan to personally pick up the perforator), and I'll be happy to provide you with an estimate of the shipping cost.
Published 2016-03-22 Last updated 2016-03-30