A mysterious Matouche Postes envelope
On Sunday, I stopped to check my post office box, and although it contained only a single envelope, it was a very interesting envelope indeed.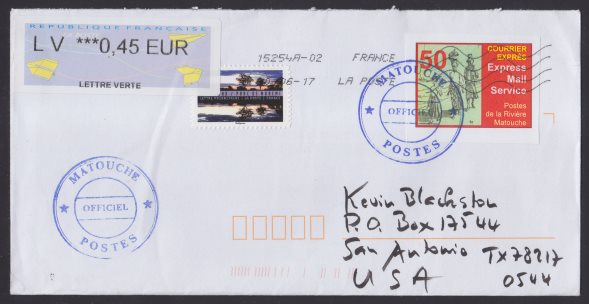 The cover contained neither note nor letter, but within was a delightful array of artistamps, at least some of them possibly local post stamps. In addition to the French stamp, the envelope bears a Postes de la Rivière Matouche Express Mail Service stamp tied with a Matouche Postes cancellation. A Google search turned up only a single reference to the existence of such items, but that was it.
Happily, the back of the cover did have a return address in Switzerland, so I've written a thank you note and mailed it off along with a sampling of my own philatelic creations. Hopefully the sender will respond and tell us more about his interesting stamps!
Published 2017-07-12