A classic first day cover
Modern first day covers (FDCs) are for the most part a dime a dozen, but if you go back a few decades you can find pieces with a bit of value. This first day usage of the 14¢ American Indian stamp is a fine example.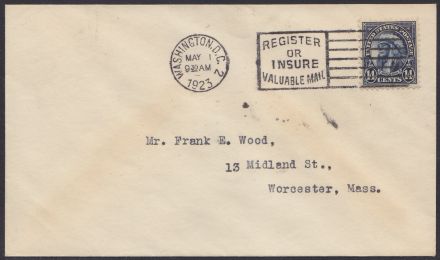 Postmarked on the morning of May 1, 1923—the first day the 14¢ American Indian stamp was available to the public—this FDC was mailed at a time when FDC collecting still hadn't captured the imaginations of most philatelists.
The cover is addressed to Frank Wood of Worcester, Mass. A backstamped return address indicates one Kenneth Salzman of Milwaukee, Wis., was responsible for the cover's mailing.
This is not a common FDC by any means, but can be found for sale on the Internet or from dealers who specialize in material from the 1920s. Examples postmarked in Muscogee, Okla., on the first day of issue are far scarcer, and correspondingly more difficult to locate.
Do you collect FDCs? Do you have a favorite?
Published 2010-01-19 Last updated 2018-06-20