14¢ American Indian used with commemorative stamp
The 14¢ American Indian stamp doesn't turn up on cover particularly often, but examples are out there if you can wait around for a bit. Finding one used with a commemorative stamp, however, is a trickier proposition.
That's what excites me about this example of Scott No. 695 (perf. 11×10½) on cover with Scott No. 793 in what appears to be a completely legitimate commercial usage of the stamps.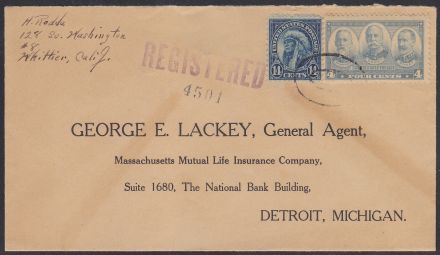 The return address indicates H. Rodda of Whittier, Calif., mailed the envelope to Massachusetts Mutual Life Insurance Company agent George E. Lackey, in 1937. The cover was postmarked on the reverse in Whittier on April 23, and in Detroit on April 27.
The first-class postage rate at the time of mailing was 3¢, meaning 15¢ went to pay the registration fee.
The only explanation I have for why a commemorative was used is the 4¢ stamp picturing William Sampson, George Dewey, and Winfield Schley was issued in March 1937, just a month before the cover was mailed. It was at the time a "new" commemorative, one that easily could have been in the Whittier post office's regular stock.
Have you seen any other examples of the 14¢ American Indian used with commemorative stamps?
Published 2010-01-06 Last updated 2018-06-20