National Sugar Refining Company Cover
Non-philatelic solo uses of the 14¢ American Indian stamp are scarce, to put it mildly. There were simply no common rates during the stamp's regular period of use that called for that particular amount.
Of the extant examples of the stamp used by itself on commercial covers, the most common are two-ounce registered envelopes such as the one shown here, mailed from Dr. Charles Davis of the National Sugar Refining Company of New Jersey in New York, New York, to the Lomas & Nettleton Company of New Haven, Connecticut.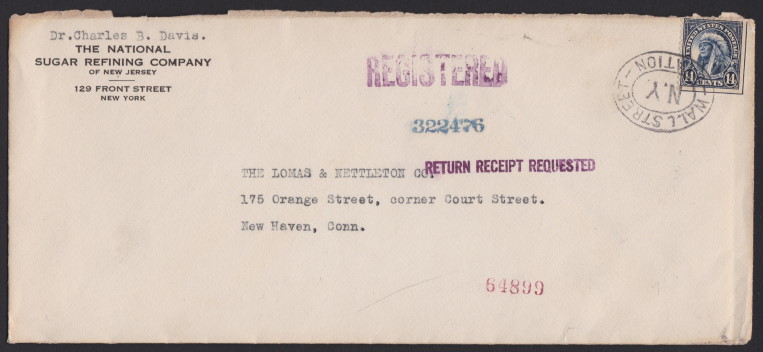 The 14¢ American Indian stamp, which is from position 100 in an upper left pane of stamps as shown by the straight edges at right and bottom, is tied to the cover by an oval Wall Street Station, New York, cancellation, while the reverse bears two strikes of a December 4, 1923, registered postmark from New York (Wall Street Station), along with a December 4 registered postmark from New Haven, Connecticut.
The 14¢ stamp covers two ounces at 2¢ per ounce plus the 10¢ registration fee that was in effect from prior to the stamp's issuance until April 1925.1 There was no charge for the requested return receipt at the time of mailing.
Dr. Davis was a 20th century inventor who held a number of patents, including one for the purification of sugar juices.2 The National Sugar Company of New Jersey, meanwhile, was founded in 1900 by Henry Havemeyer, eventually marketing sugar under brand names such as Jack Frost before ultimately filing for bankruptcy in 1984.3 4
Finally, the Lomas & Nettleton Company to which the envelope was mailed may be part of history now, but its former headquarters in New Haven still stands and serves as home to restaurants and other businesses.5
Next: Elliott Perry cover
References
Published 2021-01-06 Last updated 2021-01-07