Dallas Cover
In 1938, the United States issued a new series of definitive stamps intended to replace the fourth Bureau issue of which the 14¢ American Indian stamp was a part. Use of the American Indian stamp naturally declined, but did not cease entirely, as this large cover mailed in 1940 illustrates.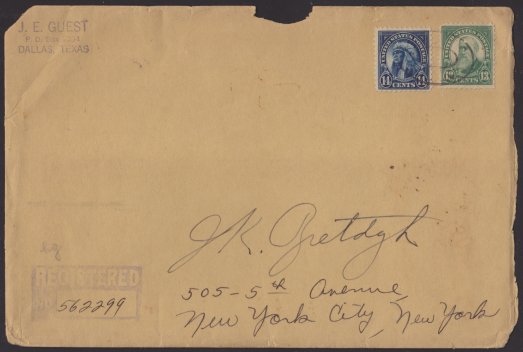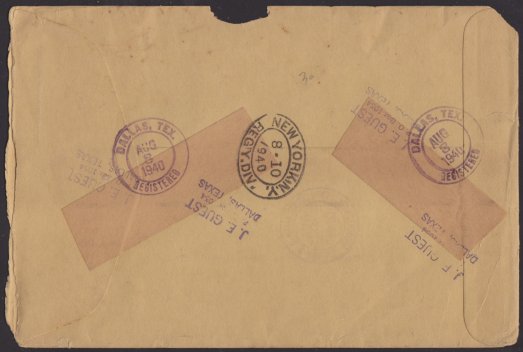 J. E. Guest, the gentleman who mailed the envelope to a resident of New York, New York, was at one time a director of the National Philatelic Society.1 Advertisements in philatelic journals indicate the stamp dealer at one point did business in Minneapolis, Minnesota, but he apparently relocated to Dallas, Texas, no later than 1921.2
The cover bears a "Registered" handstamp on the front, and was postmarked on the reverse in Dallas on August 8 and in New York on August 10. The American Indian stamp and the 13¢ Benjamin Harrison stamp, both of which are from the flat plate printings, are canceled with a mute handstamp.
It is not immediately clear exactly what the rather large amount of postage covered. The simplest combination might be 9¢ postage for a three ounce letter and 18¢ for registration, but that is at best a guess.
Examples of the United States American Indian stamp used at later dates may exist, but most, like this cover, would likely be either philatelic in nature or related to the philatelic trade.
Next: Souvenir Cocoanut parcel label
References
"Annual Convention of the NPS." Mekeel's Weekly Stamp News, 7 Aug. 1915. Accessed 21 Nov. 2010.
"Canadian Collectors." Canadian Stamp Collector, No. 7, 1921. Accessed 21 Nov. 2010.
Published 2018-06-17 Last updated 2022-06-20