CAM 20 Cover
Finding the American Indian stamp on any cover is a treat. It is a bonus when the cover itself is related to Native Americans.
The attractive cachet on this entire proclaims that "the airmail flies the Mohawk Trail." Hollow Horn Bear, the chief pictured on the stamp, was a Brule Sioux, not a Mohawk, but we will ignore that small discrepancy.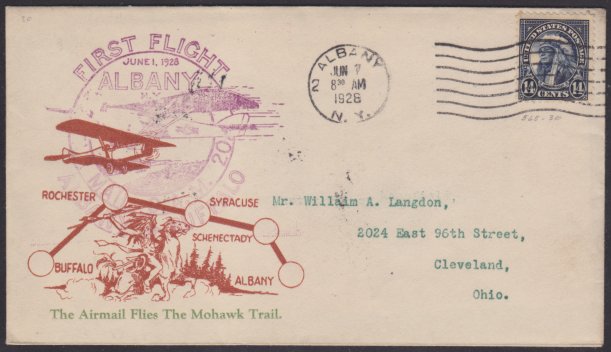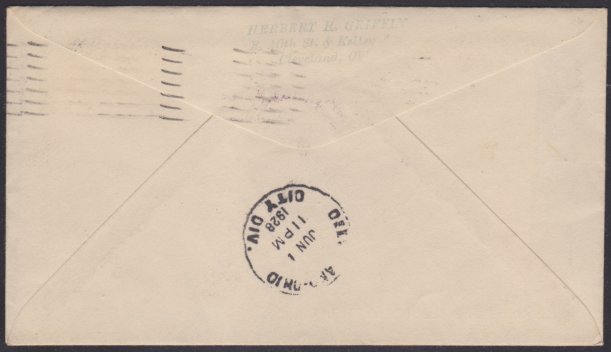 Enclosed in the envelope is a brief typewritten note from the sender, Herbert Griffin, to William Langdon, both of Cleveland, Ohio:
Dear Friend Bill:-

Here's another cover for your Air Mail collection. I hope "Uncle Sam" brings you a good copy of his latest cancellation!

Yours sincerely,

H. H. Griffin
"Uncle Sam" came through. The cover has a purple handstamp indicating it was aboard the "first flight [of] air mail C.A.M. 20, Albany–Buffalo," New York, on June 1, 1928. That flight was not the first on the route, however. CAM 20 was established in late 1927 to transport mail between Cleveland and Buffalo.1 Service was extended past Buffalo to several other cities, including Albany, beginning on June 1.
The Cleveland postmark on the back of the envelope indicates it arrived in that city around 11 o'clock at night on the same day it left Albany.
Next: USS Maryland parcel fragment
References
CAM Contract Air Mail First Flights CAM-20. Aerodacious. 10 Nov. 2009. Accessed 21 Oct. 2010.
Published 2018-06-17 Last updated 2020-07-14