American Peace Award Cover
Solo usages of the 14¢ American Indian stamp are almost always philatelic in nature. This cover postmarked on February 14, 1925, is highly unusual in that it appears to be a legitimate commercial use of the stamp by itself, not a stamp collector's creation.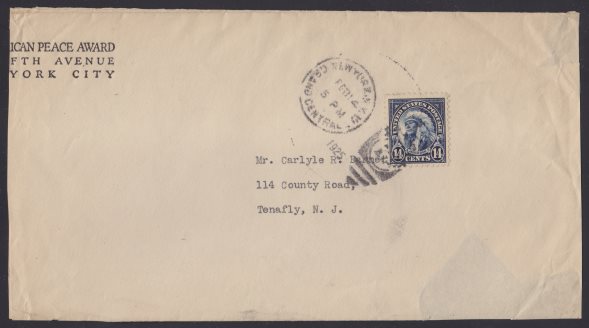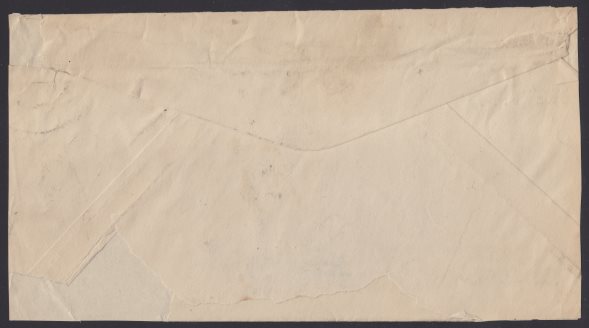 The cover was mailed from the American Peace Award of New York, New York, to Carlyle Barnett of Tenafly, New Jersey.
Edward Bok, publisher of The Ladies' Home Journal, created the American Peace Award in 1923, offering a $100,000 prize for the best proposal regarding how the United States could promote world peace and enlisting dignitaries such as future first lady Eleanor Roosevelt and former and future Secretary of War Henry L. Stimson to manage the program.1 By the time the envelope illustrated here was mailed in early 1925, the organization had refocused its efforts on promoting United States participation in the World Court.
Although it is possible that the 14¢ stamp overpaid postage on this piece, the simplest explanation in the absence of any special delivery or other auxiliary markings is that this was a seven-ounce letter mailed at the first-class rate of 2¢ per ounce.2 The circle of ink around the duplex cancel suggests the envelope contained something that gave way to the pressure of the handstamp, allowing the rim of the cancellation device to make contact with the envelope.
Next: Clokey cover
References
DeBenedetti, Charles. The $100,000 American Peace Award of 1924. Penn State University. Accessed 5 June 2017.
Beecher, Henry W., and Anthony S. Wawrukiewicz. U.S. Domestic Postal Rates, 1872–2011. 3rd ed. Bellefonte, Pennsylvania: American Philatelic Society, 2011.
Published 2018-06-17 Last updated 2018-08-14