Souvenir Card
The die and plate proofs of the 14¢ American Indian stamp prepared in the early 20th century are beyond the reach of most collectors because of price and scarcity. Obtaining a proof-like impression of the design is entirely possible, however, thanks to work done by the Bureau of Engraving and Printing.
The BEP prepared this souvenir card for Stampshow '89, the American Philatelic Society exhibition held in Anaheim, California, in August 1989.1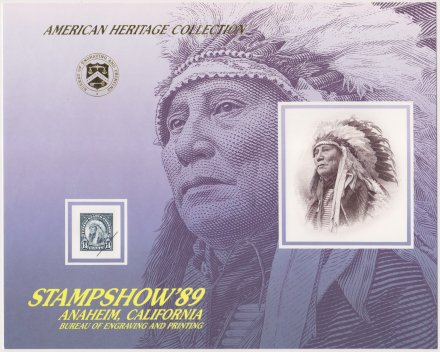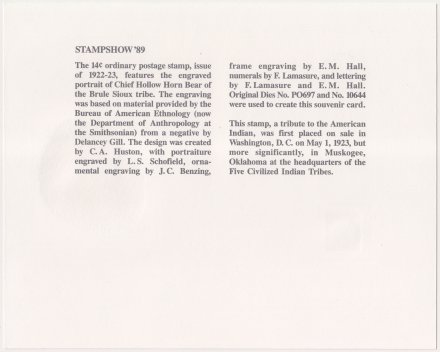 The impressions of the American Indian stamp and the separate engraved vignette were produced from original BEP dies. The stamp design is invalidated by a diagonal black line, but the sharp impressions are nevertheless difficult for even the attractive issued stamps to match.
The reverse of the card identifies the American Indian stamp's subject, Hollow Horn Bear, and provides an abbreviated treatment of its history.
Although the souvenir card was not valid for postage, "used" examples exist bearing valid United States stamps serviced with a Bureau of Engraving and Printing cancellation dated August 24, 1989.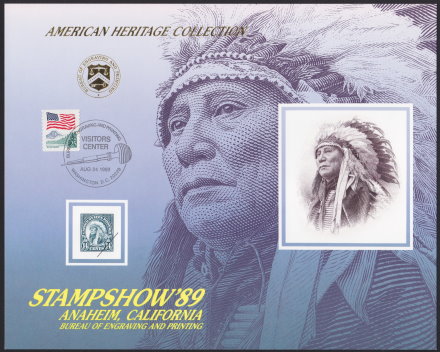 Next: Souvenir sheet
References
Healey, Barth. Pastimes: Stamps. The New York Times, 4 June 1989. Accessed 12 Jan. 2011.
Published 2018-06-17 Last updated 2020-10-23