Tennessee's Ruby Falls Pictured on New Local Post Stamp from Philosateleian Post
Jacksonville, Fla., USA, August 12, 2012—Ruby Falls, one of the most impressive waterfalls in the southeastern United States, will be commemorated on a stamp being issued in September by Philosateleian Post, a Jacksonville, Fla.-based private local post. Located in a cave inside Lookout Mountain near Chattanooga, Tennessee, Ruby Falls plunge 145 feet into a pool in the cave's floor.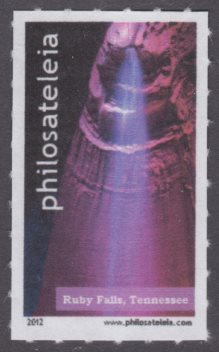 "I was only a child the first time I saw Ruby Falls, but I still remember the thrill of hearing the waterfall before seeing it—standing in the darkness and hearing the strains of Also Sprach Zarathustra (the theme from 2001: A Space Odyssey) playing over the sound of the rushing water, and then seeing the falls revealed when the lights were turned on," says Kevin Blackston, proprietor of Philosateleian Post. "It was an experience that made an indelible impression on my young mind, and I was excited to make a return visit to Ruby Falls last year."
A caver named Leo Lambert discovered Ruby Falls, which are named after his wife, Ruby, in 1928. The Ruby Falls cave was opened to tourists soon after, and it has been a major natural attraction in the Chattanooga area since that time.
The Ruby Falls stamp will be issued on Thursday, September 13. It is Philosateleian Post's final scheduled new issue of 2012.
Technical Specifications
Format: sheets of 42 (7×6). Design size: 21×36 mm. Separation method: roulette 5½ (approx.). Adhesive: none; applied at time of use. Printing method: inkjet.
Philatelic Services
For a complimentary mint single of Philosateleian Post's Ruby Falls stamp, or to receive first day cover service, send a SASE and your request to:
Kevin Blackston
Philosateleian Post
PO Box 57622
Jacksonville FL 32241-7622
United States of America
About Philosateleian Post
Founded in 2004, Philosateleian Post transports mail only from the Philosateleian Embassy to the nearest mail receptacle or post office. This private local post exists solely for the enjoyment of its proprietor and does not compete with any official mail service. For more information, please visit http://www.philosateleia.com/post/
Published 2018-06-17