Philosateleian Post to Participate in World Local Post Day With Stamp Marking 50th Anniversary of John F. Kennedy's Death
Jacksonville, Fla., USA, November 19, 2012—John F. Kennedy, the 35th President of the United States, is being commemorated with a new local post stamp to be issued by Jacksonville, Fla.-based Philosateleian Post on January 28, 2013.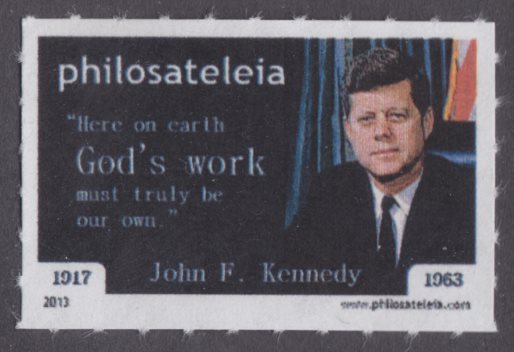 The stamp's design is based on a photo taken during President Kennedy's time in office, and also includes a quote from his inaugural address: "Here on earth God's work must truly be our own."
"Whatever your politics, it would be difficult to argue that we should not be focused on our higher calling," says Kevin Blackston, proprietor of Philosateleian Post. "This new stamp emphasizes that while at the same time recognizing President Kennedy's public service to the United States."
The new stamp is scheduled to be issued on World Local Post Day. Philosateleian Post's proprietor is a member of the Local Post Collectors Society, which selected the 50th anniversary of President Kennedy's death as the theme for the annual event. 2013 will be the third consecutive year in which Philosateleian Post has issued a stamp on World Local Post Day.
Technical Specifications
Format: sheets of 42 (6×7). Design size: 36×21 mm. Separation method: roulette 5½ (approx.). Adhesive: none; applied at time of use. Printing method: inkjet.
Philatelic Services
For a complimentary mint single of the John F. Kennedy stamp, or to receive first day cover service, send a SASE and your request to:
Kevin Blackston
Philosateleian Post
PO Box 57622
Jacksonville FL 32241-7622
United States of America
About Philosateleian Post
Founded in 2004, Philosateleian Post transports mail only from the Philosateleian Embassy to the nearest mail receptacle or post office. This private local post exists solely for the enjoyment of its proprietor and does not compete with any official mail service. For more information, please visit http://www.philosateleia.com/post/
Published 2018-06-17