Jekyll Island, "Georgia's Jewel," to be Commemorated on Local Post Stamp
Jacksonville, Fla., USA, August 13, 2013—One of the Southeast's most peaceful and relaxing vacation spots will be recognized in October on a new local post stamp from Philosateleian Post. Jekyll Island, one of the Golden Isles and known as "Georgia's Jewel," is the subject of the stamp, which is scheduled to be issued on October 7.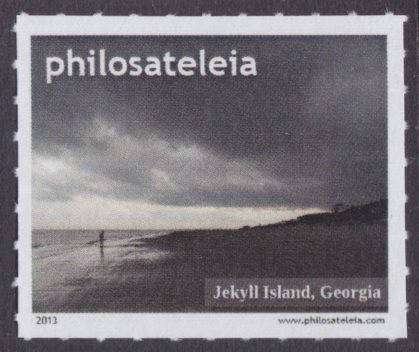 "I made my first trip to Jekyll Island 14 years ago," says Kevin Blackston, proprietor of Jacksonville, Fla.-based Philosateleian Post. "My family and I have returned many times since then, and we have many fond memories from our visits there. Jekyll Island has a peaceful atmosphere that makes you want to stay."
Spanish explorers claimed Jekyll Island in the early 16th century. By the mid-1600s, however, the area saw increasing British influence, and the island was ultimately incorporated into what was first the colony, and later the state, of Georgia.
The new stamp's design is based on a photo taken by Blackston of dark rain clouds gathering over one of the island's beaches. It is the third stamp from Philosateleian Post to honor the island; both of the local post's 2008 issues featured Jekyll Island scenes.
Technical Specifications
Format: sheets of 60 (6×5). Design size: 36×29.5 mm. Separation method: roulette 5½ (approx.). Adhesive: none; applied at time of use. Printing method: laser.
Philatelic Services
For a complimentary mint single of Philosateleian Post's Jekyll Island stamp, or to receive first day cover service, send a SASE and your request to:
Kevin Blackston
Philosateleian Post
PO Box 57622
Jacksonville FL 32241-7622
United States of America
About Philosateleian Post
Founded in 2004, Philosateleian Post transports mail only from the Philosateleian Embassy to the nearest mail receptacle or post office. This private local post exists solely for the enjoyment of its proprietor and does not compete with any official mail service. For more information, please visit http://www.philosateleia.com/post/
Published 2018-06-17