Philosateleian Post to Release Duck Stamp on June 1
Jacksonville, Fla., USA, April 28, 2012—A mother duck and her four ducklings are the subjects of a new stamp to be issued by Philosateleian Post on June 1. The stamp is the Jacksonville, Fla.-based local post's first to feature wildlife since 2010.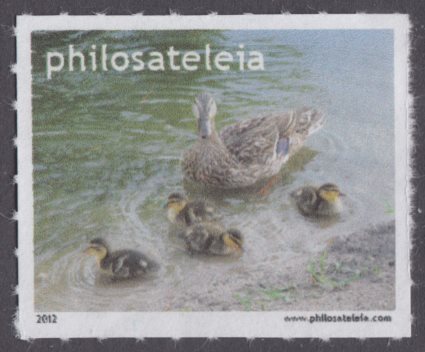 "My wife and I enjoy watching God's creatures," says Kevin Blackston, proprietor of Philosateleian Post. "We spotted these ducks outside our home last year, and had the opportunity to take the photo that is the basis for this stamp."
Philosateleian Post's new stamp is scheduled to be issued just a few weeks before the United States begins selling its newest hunting permit stamp, providing philatelists with an additional "duck stamp" to add to their collections.
Technical Specifications
Format: sheets of 30 (6×5). Design size: 36×29.5 mm. Separation method: roulette 5½ (approx.). Adhesive: none; applied at time of use. Printing method: inkjet.
Philatelic Services
For a complimentary mint single of Philosateleian Post's duck stamp, or to receive first day cover service, send a SASE and your request to:
Kevin Blackston
Philosateleian Post
PO Box 57622
Jacksonville FL 32241-7622
United States of America
About Philosateleian Post
Founded in 2004, Philosateleian Post transports mail only from the Philosateleian Embassy to the nearest mail receptacle or post office. This private local post exists solely for the enjoyment of its proprietor and does not compete with any official mail service. For more information, please visit http://www.philosateleia.com/post/
Published 2018-06-17